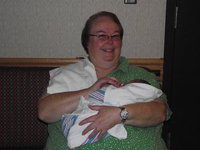 One Monday night at our regular "ladies' night out," some of the group starting discussing doing something rather than just having a social night out. It sounded like a wonderful idea to me so we began brain storming possibilities. Several good ideas were suggested. I mentioned to the group a work a local denomination did that I knew about through my work at the local hospital. Every December, their ladies "missionary" project was to make baby gift sets for our newborns. They always brought 12-15 bags each year. I accepted their gifts for the hospital and was always asked to sign a letter addressed to their mission-aid society acknowledging receipt of their donation. In the verbiage of this letter, it stated they had completed a part of their required annual charity work. I always thought these gifts must be like the food baskets everyone is so involved in giving during this time of year.
The ladies loved the idea of giving to local people-and what better time to introduce people to the Lord's church than when they have a new life join their family? We began the very next week sewing, crocheting and buying baby items. Some very talented women made flannel blankets, bibs, mittens, burp rags and toys. Others crocheted caps, booties and blankets, while others bought items or donated funds to buy the supplies for our gifts.
We used large two gallon zip lock bags to hold our goodies and had a wonderful time when we met to put the packets together. Matching up the items was great fun. We put a blanket, burp rag, cap and booties in each packet then finished it out with travel size lotions, powder, and socks, comb and brush sets, toys, etc…just whatever was donated or we found on sale.
We made labels on the computer to attach to the outside of each packet with the name, address and phone number of all three of the local congregations since the hospital was a county hospital and served the whole area. We wanted people to feel comfortable to contact someone in their area if they had questions or wanted more information on the Lord's church. We also enclosed the brochure "Churches of Christ-who are these people?"  It's a wonderful resource that outlines what the Lord's church believes. It gives book, chapter and verse giving people the opportunity to read for themselves why we believe and do the things we do. We stamped the back of each brochure with the same contact information attached to the outside of the packets.
From February 2010 until July 2011, we delivered 438 of these gifts packets to the local hospital. Not bad for a small congregation! I was stopped in the halls many times by friends and family of recipients thanking us and commenting on how appreciated our efforts were. Phone calls saying "Thank you!" were made to the church building where my husband was the minister. The hospital nurses were constantly telling me stories and things mothers said about our gifts. One mother told the nurse our gift was all she had to remember her stillborn baby by. Some of them couldn't believe total strangers cared enough about them and their babies to take the time to hand make such beautiful things and give to them. We always stressed it was God's love we were striving to share.
I opened up the local newspaper one day and just burst out in tears. There was the obituary of twin babies. The picture included in the article was two beautiful faces wearing our crocheted caps and wrapped in our crocheted blankets. The full knowledge that "God has no hands but our hands," hit me with full force that day. I pray you all will be blessed with that truth and find a way to share God with all you come in contact with.
Pam Fredman and her husband live in Wagoner, Oklahoma where he serves as the minister for the Wagoner church of Christ.  They have served the Lord in full-time ministry for over 30 years.  Pam has been blessed with three children and eight grandchildren.  For more information on this ministry, she can be contacted at: pam.fredman8@gmail.com