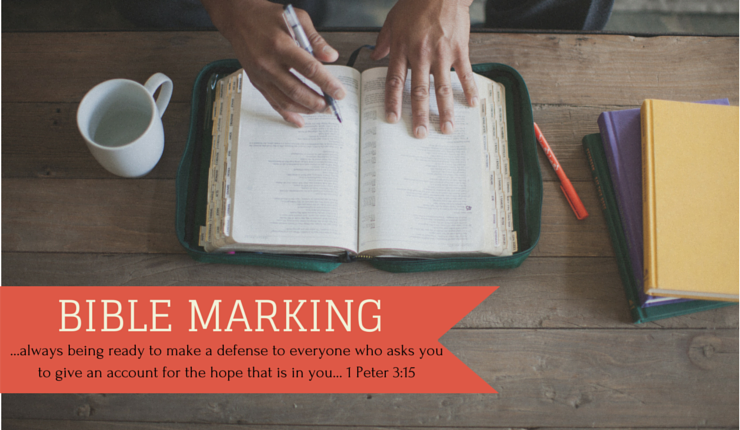 New to Bible Marking? Start here:
Bible Marking: Crash Course (Part 1)
Bible Marking: Crash Course (Part 2)
"How does your church feel about homosexuality?"  A brand new Christian asked me this question.  I'm glad she did.  A local denomination recently hung a sign in front of their building that reads, "We accept everybody.  Seriously, everybody."  But since what matters is how God feels about homosexuality, we went to His Book to find out.  This hot-button topic is all over the media.  The world is very confused about the subject of homosexuality.  We need to teach them what the Bible says about it.  But as a friend of mine recently pointed out, instead of just writing articles and hoping the right people read them, we need to be lovingly teaching our friends, neighbors, and co-workers one on one.
The purpose of Bible-marking this particular topic is so that we'll be prepared to teach as the opportunity arises, and it will.  It will be much more effective if we can immediately turn to Scripture to answer questions.  We won't convince anyone if all we have to offer is feelings and opinions.  The Word convicts.  Let its power do its work on the hearts of the hearers (Heb. 4:12).  As our Creator, God does indeed plainly tell us, from Old Testament to New, how He feels about the practice of homosexuality.
"Homosexuality"- Lev. 18:22
You shall not lie with a male as with a woman.  It is an abomination.
At the end of the verse, write 20:13 (because we're staying in Leviticus).
If a man lies with a male as he lies with a woman, both of them have committed an abomination.  They shall surely be put to death. Their blood shall be upon them.
Under the old law, homosexuality was seen as a sin punishable by death.
At the end of this verse, write Gen. 13:13.
But the men of Sodom were exceedingly wicked and sinful against the Lord.
Write the word "how?" in the margin, and then at the end of the verse, write 19:4,5.
Now before they lay down, the men of the city, the men of Sodom, both old and young, all the people from every quarter, surrounded the house.  And they called to Lot and said to him, "Where are the men who came to you tonight?  Bring them out to us that we may know them carnally.
The men of Sodom were "exceedingly wicked and sinful against the Lord" because they engaged in homosexuality.
At the end of the verse, write 1 Tim. 1:9,10
Knowing this:  that the law is not made for a righteous person, but for the lawless and insubordinate, for the ungodly and for sinners, for the unholy and profane, for murderers of fathers and murderers of mothers, for manslayers, for fornicators, for sodomites, for kidnappers, for liars, for perjurers, and if there is any other thing that is contrary to sound doctrine.
Fornication is having sex with anyone who is not your spouse.  Where the New King James version uses the word "sodomy" here, the New American Standard uses the word "homosexuals," and the New International Version reads "those practicing homosexuality."
At the end of this verse, write Rom. 1:26-32.
For this reason God gave them up to vile passions.  For even their women exchanged the natural use for what is against nature.  Likewise also the men, leaving the natural use of the woman, burned in their lust for one another, men with men committing what is shameful, and receiving in themselves the penalty of their error which was due.  And even as they did not like to retain God in their knowledge, God gave them over to a debased mind, to do those things which are not fitting; being filled with all unrighteousness, sexual immorality, wickedness, covetousness, maliciousness, full of envy, murder, strife, deceit, evil-mindedness; they are whisperers, backbiters, haters of God, violent, proud, boasters, inventors of evil things, disobedient to parents, undiscerning, untrustworthy, unloving, unforgiving, unmerciful; who, knowing the righteous judgment of God, that those who practice such things are deserving of death, not only do the same but also approve of those who practice them.
In this text, God describes homosexual behavior as "vile" and unnatural.  Note that the Bible says those who "practice" such things are deserving of death.  Some claim that they can't help being homosexual.  While it may be true that they have those desires, they are still going to be held accountable if they act on them. We have no problem understanding that when it comes to the other specific sins that are listed (murder, fornication, maliciousness).  It's also important to note that not only will the guilty face punishment, but so will those who "approve of those who practice them."
At the end of this passage, write 1 Cor. 6:9-11.
Do you not know that the unrighteous will not inherit the kingdom of God?  Do not be deceived.  Neither fornicators, nor idolaters, nor adulterers, nor homosexuals, nor sodomites, nor thieves, nor covetous, nor drunkards, nor revilers, nor extortioners will inherit the kingdom of God.  And such were some of you.  But you were washed, but you were sanctified, but you were justified in the name of the Lord Jesus and by the Spirit of our God.
Circle the word "unrighteous," and then notice the list of people God considers unrighteous.
Four of them concern specific sexual sins (fornicators, adulterers, homosexuals, and sodomites).  Anyone guilty of practicing these things will not inherit the kingdom of God.  "Do not be deceived" by the media, by politics, or even by family members and friends.  But notice the last part of the verse.  "And such were some of you."  This is very important when teaching others what the Bible says about homosexuality.  Paul was writing to Christians.  Those who struggle with this sin CAN put it away and live righteously.
May God give us hearts of compassion and courage as we strive to let His truth be heard on this controversial subject.
Latest posts by Kathy Pollard
(see all)