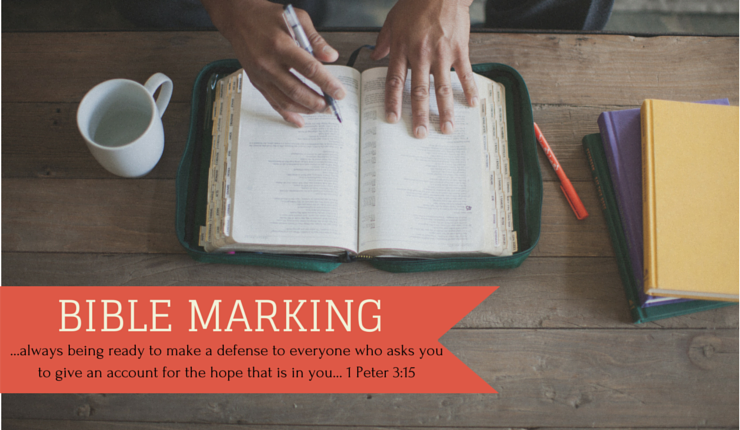 New To Bible Marking? CLICK HERE
Accountability has two parts. It means to answer for something, and to be held responsible for it. When students are not held accountable, teachers can't enforce rules. When criminals are not held accountable, the police have a harder time enforcing the law. Sometimes it seems like no one is responsible for their mistakes or bad judgment calls!
What plagues society tends to creep into the church. Some excuse their sin instead of owning up to it and doing something about it. They say, "I can't help it. God made me that way." Some with an acid tongue might say, "I know I'm too blunt, but that's just the way I am." And some excuse sin by blaming their upbringing. We need to remind ourselves that the idea of accountability is a biblical one, so that we, and those we love, will be more careful with our choices, our speech, and our actions.
To begin, write "Accountability" in the topics list in the front of your Bible. Next to it write your first verse, which is Genesis 3:17.
Gen. 3:17- "Because you have done this…"  He listened to someone else & broke a commandment (THE commandment). The blame game didn't work. At the end of verse 17, write Psa. 10:13.
Psalm 10:13- This verse asks and answers a question. The wicked turn away from God because they think they can get away with it. At the end of this verse, write Ecc. 11:9.
Ecclesiastes 11:9- If you like, in the margin next to this verse write, "Party now, pay later." At the end of this verse, write Ezek. 18:20-24, 30-32.
Ezekiel 18:20-32- The very first verse of this passage tells us we can't blame our parents for our own choices. Vs. 25 tells us it doesn't matter whether or not we think God's ways are fair. So the argument, "I know what the Bible says, but surely God wants me to be happy," is unacceptable. Verse 30 is a good one to underline. At the end of verse 32, write Mic 6:8.
Micah 6:8- From this verse we see that God requires some things. "Require" appears 154x in the Old Testament. It's interesting to see how else this word is translated and what it tells us about our God:
"Inquire"- He'll look into it
"Seek"- He'll look for it
"Search"- He'll find it
"Study"- He'll know the details about it
"Investigate"- Deut. 13:14- "Then you shall investigate,and search out, and inquire thoroughly to see if it is true, and the matter established…"
God requires us to do justly, love mercy, and walk humbly w/ Him. Will we be held accountable? He will inquire, seek, search, study, and investigate! At the end of verse 8, write Matt 5:19,20.
Matthew 5:19, 20– We will be held accountable for breaking even the least of the commandments and for making others think it's okay to do so.  At the end of this verse, write Matt. 12:36.
Matthew 12:36-  "Every idle word," and yet we have mastered the art of excusing the things we say! Circle the word "every." At the end of this verse, write 25:31-46.
Matthew 25:31-46-  This is the day of reckoning. We will be separated to either His right hand or His left. We will be heading for everlasting punishment or eternal life. What decides our fate? Our very own actions. We will give an account for them. At the end of verse 46, write John 12:48.
John 12:48– It doesn't matter how we feel or what our society believes. We will give an account for whether or not we followed God's Word. Our actions will be compared to the Bible. At the end of this verse, write Ac. 17:30, 31.
Acts 17:30,31- Who will be judged? Underline "all men everywhere" and "the world." At the end of verse 31, write Rom. 2:5-11, 16.
Romans 2:5-11, 16– In the margin next to verse 6, write "deeds determine destiny." According to verse 16, we will be held accountable even for things done in secret. At the end of verse 16, write 14:10-13.
Romans 14:10-13- We will give an account for our lives, and we'll give an account for causing anyone to stumble. In what ways can we cause others to stumble? One example is how we dress. According to this verse, we can't excuse dressing immodestly by saying, "If he lusts, it's his fault. I can't help what others think." At the end of verse 13, write 2 Cor. 5:10.
2 Corinthians 5:10- Circle the words "all," "each one," and "good or bad." At the end of this verse, write 1 Pet. 4:3-5.
1 Peter 4:3-5- We will give an account for whether or not we continue to live like the world. It's not enough to just wear the name Christian. If we act like the world, we will be condemned like the world. At the end of verse 5, write Jude 1:14,15.
Jude 1:14-16-  The word "ungodly" is used 4 times in verse 15. Circle each one. In the margin, write "Who are they?" Then underline verse 16! At the end of verse 16, write Rev. 20:12.
Revelation 20:12- Circle the word "judged," and underline "according to their works". At the end of the verse write, 22:14,15.
Revelation 22:14,15- Underline the entire verse.
For more Bible Marking topics CLICK HERE
Latest posts by Kathy Pollard
(see all)