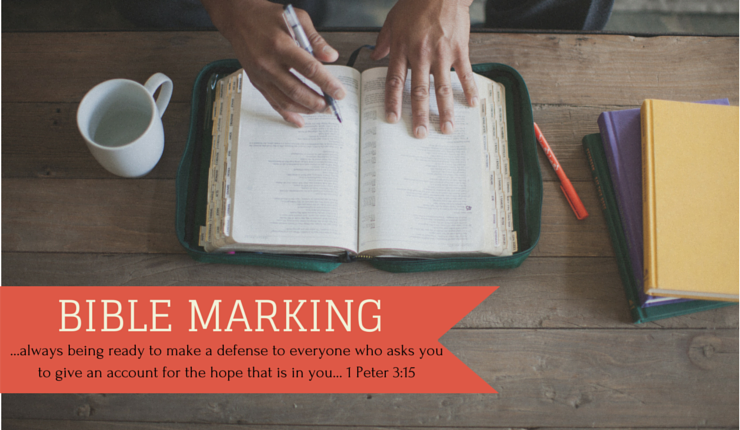 New To Bible Marking? CLICK HERE
Martin Luther King, Jr. said, "Forgiveness is not an occasional act; it is an attitude."  Specifically, it is the attitude of Christ (Luke 23:34). I have found that the older I get, the easier it is to forgive.  Perhaps that is because I've been forgiven of so much by dear friends and family members. Perhaps it's because the longer I live, the more I see the hardships or weaknesses with which we all struggle. Whatever the reason, I wish I'd found it easier to forgive when I was younger.  Instead of holding people to higher standards than I held myself, why didn't I offer the same compassion, patience, and grace that I expected of them?  After all, Christ had already forgiven me of so much. He already taught that we are to love like He loves, that we are to be patient, merciful, compassionate, and forgiving (Ephesians 4:1,2, 32; 5:2).  Instead of focusing on these essential Christian traits, we sometimes offer excuses for why we can't, or won't, forgive.  We might think our situation is the exception.  But forgiving others is commanded.  It's so important that Jesus mentioned it in His brief model prayer (Matthew 6:12).  Having this topic Bible-marked helps me when pride or self-righteousness interferes with my ability to forgive.  Begin by writing "Forgiving Others" in the front of your Bible, and then next to it write the first Scripture reference, Matt. 6:14,15.
For if you forgive men of their trespasses, your heavenly Father will also forgive you.  But if you do not forgive men your trespasses, neither will your Father forgive your trespasses.
If love isn't yet our motivation for forgiving others, then fear should be.  We know we sin against God and others.  Unless we want to be held accountable for those sins, we MUST forgive others.  The word "forgive" is mentioned four times in this passage.  I underlined each one, and also circled the word "if," which appears twice.  While God's love is unconditional, His forgiveness is conditional.  At the end of this text, write Matt. 18:21, 22.
Then Peter came to Him and said, "Lord, how often shall my brother sin against me, and I forgive him?  Up to seven times? Jesus said to him, "I do not say to you, up to seven times, but up to seventy times seven."
There are three phrases I underlined in my Bible to make the point stand out:  "how often shall," "I forgive him," and "seventy times seven."  In the margin I wrote, "no limit to forgiveness."  What are the chances that any one person will sin against me 490 times?  Even more sobering, is it safe to say that I will sin against God that many times in my life?  If I live to be 80 years old, I only have to sin a little over 6 times a year to reach 490.  All of a sudden forgiving a person repeatedly doesn't seem too much to ask.  At the end of this passage, write vs. 34, 35 (because we're staying in the same book, same chapter).
And his master was angry, and delivered him to the torturers until he should pay all that was due to him.  So My heavenly Father also will do to you if each of you, from his heart, does not forgive his brother his trespasses.
This is the conclusion to a parable Jesus told right after answering Peter's question about how many times we must forgive a brother.  In the parable, the master forgave one of his servants a large debt.  That same servant then went out and demanded payment of a small debt from a fellow servant.  He was shown mercy, but unwilling to extend mercy.  When the master found out, he called his servant "wicked" for not showing the same compassion and pity that was given to him.  I circled the words "angry," "torturers," and "pay" in verse 34 to show the master's reaction, and then underlined all of verse 35.  I also put a square around the word "heart" in verse 35, and wrote in the margin, "must be genuine."  In addition to being generous with our forgiveness of others, we must offer sincere forgiveness.  At the end of this passage, write Luke 17:3,4.
Take heed to yourselves.  If your brother sins against you, rebuke him; and if he repents, forgive him.  And if he sins against you seven times in a day, and seven times in a day returns to you, saying, "I repent," you shall forgive him.
"Forgive him" is found twice in this text.  I underlined both of them.  It's all too easy to emphasize the part that says, "if he repents."  Instead, we need to personally focus on the part about rebuking him.  That involves going to him and talking to him privately.  Getting my feelings hurt, or being offended, and then withholding forgiveness until they offer some sort of repentance is unreasonable if I don't have the courage to talk to them about it.  The offense may have been unintentional, and therefore the offender is ignorant of his blunder.  We also need to personally focus on the part about continuing to forgive even when the brother continues to offend.  I wonder if forgiveness actually benefits the offended more than the offender?  God knows what's best for us, and carrying a grudge or hanging on to bitterness effects us emotionally, spiritually, and physically.  (Check out mayoclinic.com for information about the health benefits of forgiveness.)  At the end of this passage, write Eph. 4:32.
And be kind to one another, tenderhearted, forgiving one another, even as God in Christ forgave you.
In my Bible, I underlined "even as God in Christ forgave you."  There's the extent and motivation behind the forgiveness we offer.  At the end of this verse, write Col. 3:13.
Bearing with one another, and forgiving one another, if anyone has a complaint against another; even as Christ forgave you, so you also must do.
This command continues the teaching earlier in the chapter about "putting off the old man with his deeds" and "putting on the new man who is renewed."  The old man gets angry, is filled with wrath and malice, and says ugly things.  But the Christian, the new man, is merciful, kind, humble, patient, forgiving.  I underlined "forgiving one another" and "even as Christ forgave you."  In the margin, I wrote, "How did Christ forgive?"  The answer is found in the next verse, so at the end of this passage, write Luke 23:33,34.
And when they had come to the place called Calvary, there they crucified Him, and the criminals, one on the right hand and the other on the left.  Then Jesus said, "Father, forgive them, for they do not know what they do."
I underlined, "Father, forgive them," and in the margin I wrote, "Ultimate example."
Many discussions could be had about forgiveness.  What if the offender never repents?  What if the offender isn't worthy of repentance (are any of us?), or never shows signs of remorse or guilt?  What if a betrayal took place?  These conditions may occur, but the command remains the same.  We are to forgive.  God will work out the rest.  As long as we do our part, with a sincere heart, all will be made right in the end.
For more Bible Marking topics CLICK HERE
Latest posts by Kathy Pollard
(see all)