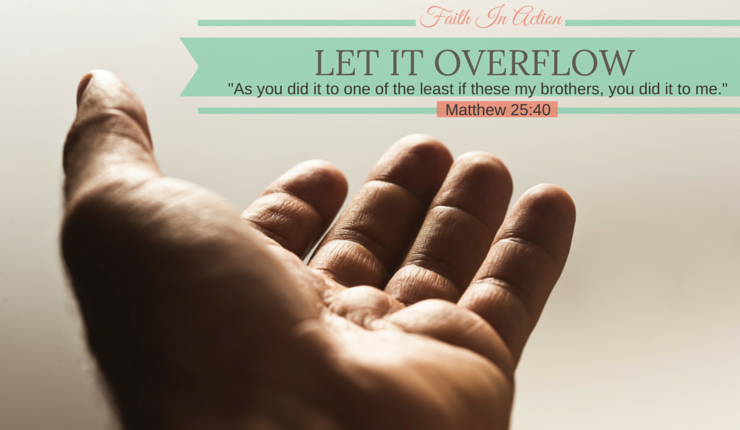 How many times have you found yourself driving down the road and passing someone with a "PLEASE HELP" sign? It gets really uncomfortable when you end up stopped at a red light with someone standing right next to your vehicle, typically in grungy clothes with a sleeping bag close by, holding their cardboard sign. If you're anything like me this is a very difficult situation for you because there are many thoughts going through your mind: Scriptures such as Titus 3:14 that encourage us as Christians to do good deeds, fear for my children (who are almost always with me) if I roll my windows down to speak with the person, discomfort when I consider giving them money because I have no idea what they could spend it on, guilt for questioning the motives
of someone I don't even know, and probably several other thoughts and emotions that aren't coming to mind right now.
In these situations it is also important to remember Matthew 10:16, "Behold, I am sending you out as sheep in the midst of wolves, so be wise as serpents and innocent as doves." Jesus understood that the world around us is dangerous, and while he expects us to do His will and be His hands and heart on this earth, I believe He also expects us to do so intelligently without putting ourselves at unnecessary risk. So how do we best help these hurting souls without putting ourselves in danger?
This month's challenge is one way to do just that. Our family has begun keeping "Benevolence Bags" in our vehicle so that we are prepared when we see people that have a need. It has been a tremendous blessing to our family because we have been able to help people who need it, to do so in a wise and safe manner, and to do so as a family.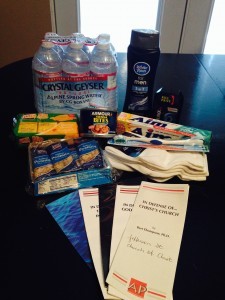 After discussing this idea with my husband and deciding to pursue it, our first stop was to the DollarTree, a frugal mama's best friend!  While I had hoped to find Bibles, unfortunately our DollarTree was not carrying them at that point in time. However, we were able to purchase basic items for both the health and comfort of those in need. We were able to purchase: bottled water, canned meat, crackers, peanuts, socks, body wash, deodorant, toothbrushes and toothpaste. We also made sure to get half of the supplies for women and the other half for men.
Our next stop was online. While once again, ideally I would have liked some Bibles, in following Jesus' example with the Woman at the well (John 4) we certainly didn't want to feed these people physically without feeding them spiritually. We went to Apologetics Press online and we were able to find several appropriate tracts for only $0.18-$0.33 a piece. We found the tracts we thought would be most beneficial and ordered them in bulk so that we would have them on-hand for the foreseeable future.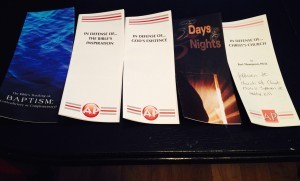 Finally, we needed to decide what type of bagging to put the supplies in. While it is certainly not the prettiest, ultimately we decided to use simple plastic grocery bags. We considered buying little bags at the DollarTree, but we made sure to visit with several of the poor we were attempting to help and we learned that oftentimes for those who are traveling or homeless a bag actually makes it more difficult because they have no way of keeping up with it. We also considered gift bags (it would certainly have been prettier) but we decided that this was not a realistic option for our family. We have four young children and travel a LOT, and we were pretty certain that within a matter of days the gift bags would be wrinkled and torn. This left us with plastic grocery bags that we already have in abundance, and that the poor can simply throw away when they are empty.
Once we had all of this put together we were feeling pretty excited, but we still had concern over safety when delivering our Benevolence Bags. Once again, I almost always have my children with me, and it's not uncommon at all for us to be driving around without my husband while he is at work. Personally, I am not comfortable rolling down my window and inviting a stranger over to my vehicle, especially when I'm alone with my kiddos. The way I have chosen to handle this situation is to find a very public (and especially well-lit at night) area close to where those in need are, and I park my vehicle there. I leave my purse & my kids locked in my vehicle, and quickly walk up to the individual, hand them the bag and say something to the effect of "God bless" and then quickly walk back to my kiddos.
I do, however, want them to know that the Lord's church has met this need for them, so I put the church's name and address on one of the pamphlets. This also provides some direction if they ever decide to follow-up on the information in the tracts. There's no way of knowing when and where the seed of God's word will choose to grow, but it is our prayer that one day these seeds will take root in one of these precious souls.
While certainly there are many different ways of reaching out to the lost and serving the poor, this is a way that has worked very well for our family. There is a lot of truth to the statement that you can't minister to a man's soul while his belly is growling, which I believe is evidenced by the fact that Jesus himself fed the masses who had gathered to hear him teach. This is only one way of meeting that need, but I believe it is a very effective one. If you do not currently have a plan for ministering to those you come in contact with who are in need, let me challenge you to change that today! Let your faith overflow by being Jesus' hands to those who are in need!

Latest posts by Lacy Crowell
(see all)