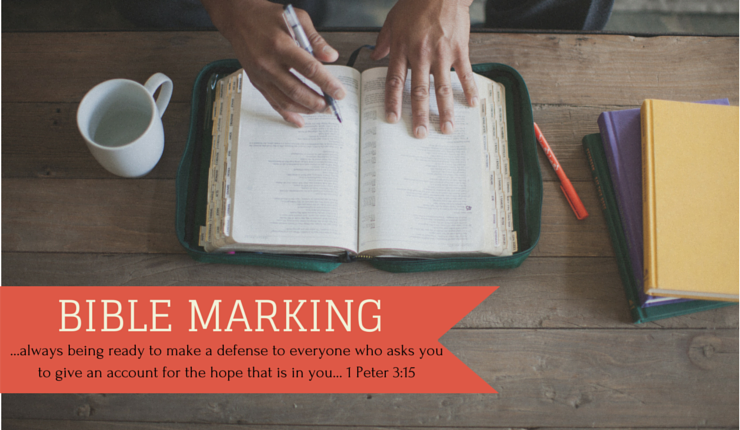 New To Bible Marking? CLICK HERE
"Praise the Lord!"  I confess that I have been uncomfortable when hearing that phrase.  I'm not real sure why.  The only reason I can come up with for my trepidation is that I associate that phrase with the misguided in the religious world.  Silly, I know.  After all, the Bible writers express it repeatedly.  I also think that praise is the weakest part of my prayer life.  I do a lot of thanking and asking, but not as much praising, at least in a natural way.  So I felt like I needed this study.
There is more than one word for praise in both the Hebrew and Greek languages.  The different Hebrew words for praise can be translated as "praise," "sing praises (coming from one Hebrew word)," "extol," "bless," and "glorify."  The different Greek words for praise can be translated as "praise," "blessed be" (praiseworthy; praise to), and "glorify."  There may be some other praise words but these are the ones I've found so far.
Because there are so many Scriptures dealing with praise (which is noteworthy), I have broken them down into categories, listed them out, and will let you choose which ones you'd like to include when you mark your Bible.  As you go to each verse, you might circle the word for "praise," and then underline the reason given for the praise.  Also consider beginning the task of highlighting in your Bible every use of the words for "praise."  This will impress upon you the prevalence and significance of praising God as His people.  As many verses as there are below, this is still not an exhaustive list of the Scriptures instructing us to praise God!
As you study through the passages, you may note that many of them are simply examples of praise throughout the Old and New Testaments.  The phrases of praise listed at the end can be incorporated into your own life.  While the thoughts of these phrases are already in my heart, it is my hope that they will come more naturally off my lips.
Praising God…
WHEN?
1 Chron. 16:36- From everlasting to everlasting
Psa. 34:1- At all times; always
Psa. 44:8- Forever
Psa. 113:3- From the rising of the sun to its setting
Psa. 145:2- Every day; forever and ever
1 Pet. 4:16- When you suffer as a Christian
Rev. 5:13- Forever and ever
HOW?
Judges 5:3; 1 Chron. 16:9- In song
1 Chron. 16:8- By making known His deeds among the people
Psa. 9:1,2- With all the heart; by telling of all His wonders
Psa. 138:1- With all my heart
1 Pet. 4:11-By speaking and serving in a way that pleases God
WHERE?
1 Chron. 29:10- In the presence of the whole assembly
Psa. 22:22- In the congregation
Psa. 35:18- Among many people
Psa. 134:2- In the sanctuary
Luke 24:53- At the temple
Ac. 2:46,47- In the temple; from house to house
WHO?
Psa. 33:1- The upright
Psa. 74:21- The poor and needy
Psa. 134:1- All you servants of the Lord
Psa. 150:6- Everything that has breath
Rom. 15:11- All you Gentiles; all you peoples
Rev. 19:5- All who serve Him; all who fear Him; both great and small
WHY?
Deut. 32:3- God's greatness
2 Sam. 22:49,50; 1 Chron. 16:35- Deliverance
Psa. 13:6- Because He has dealt bountifully with me
Psa. 135:3- Because God is good; it is pleasant
Psa. 147:1- It is pleasant and becoming
Psa. 150:2- For His acts of power; for His mighty greatness
1 Ki. 8:56- God's promises
Luke 17:15,16- Thanksgiving
Eph. 1:3- Because He has blessed us with every spiritual blessing
1 Pet. 1:7- The proven genuineness of your faith
1 Pet. 2:9- We belong to God
2 Sam. 22:4; Psa. 18:3; Rev. 5:12-God is worthy
PHRASES OF PRAISE:
1 Chron. 29:13- "We thank You, and praise Your glorious name."
Psa. 63:3- "Because Your lovingkindness is better than life, my lips will praise You."
Psa. 71:8- "My mouth is filled with Your praise and with Your glory all day long."
Psa. 104:1- "O Lord my God, You are very great; You are clothed with splendor and majesty."
Rev. 7:12- "Blessing and glory and wisdom and thanksgiving and honor and power and might, be to our God forever and ever."
For more Bible Marking topics CLICK HERE
Latest posts by Kathy Pollard
(see all)