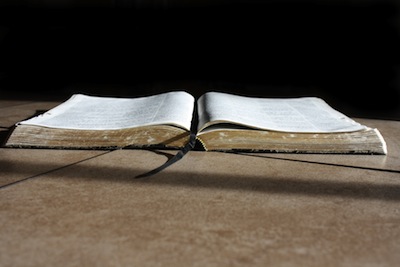 My favorite line of a song says, "In the dark, on the phone…you tell me the names of your brothers and your favorite colors…I'm learning you." It tells of a time in a relationship where everything is beautiful and you are just getting to know the other person, and every detail is important. Nothing is too insignificant to learn. And you'll notice the time of day is really night time, probably when most people would be getting rest; yet, here he is on the phone listening to the person that is so important to him. Oh, young love right? I challenge you to think of the dedication that you put into getting to know the One that loves you the most; God. Are we as dedicated to Him as we should be? Are we learning Him as we would a new love? The wonderful thing about it is that it is not too late! If you are sitting here reading this you can still change an answer of, "Not really." to, "Yes I am!"
?Are you are excited to get to know God? I can hear you now, "Oh wait. But How?" We can start by looking to the one who offers all the answers. The wisest man that ever lived (besides Jesus) was King Solomon and he has this to say in Proverbs 1:7 ;
"The fear of the Lord is the beginning of knowledge; Fools despise wisdom and instruction."
To know anything we have to first fear the Lord. Not the cowering fear that is the reaction to a bully; no, this is the idea of standing in awe or holding in reverence. The type of awe and fear of messing up in front of a big movie star or singer that you admire, or saying something that would offend them. In order to start to know Him, we have to recognize His awesomeness. Spend some time contemplating the creation of the world, the complexity of the human body, or even stare into the eyes of a new born baby. You can't argue with the fact that the mind that created those things is far superior to us. How can we argue away His awesomeness? He is AMAZING!
Later in the book of Proverbs in chapter 24, verses 3 and 4 we read;
"By wisdom a house is built,
And by understanding it is established;
And by knowledge the rooms are filled
With all precious and pleasant riches."
According to Strongs Concordance; understanding is the object of knowledge. Why would we want to know something if not to better understand it? Just having exposure to the God is not enough; we have to purposely put in the effort to know Him through his Word, the Bible.
?
[Tweet "If you do not set the time aside for bible study, it will not happen organically"]
An important thing that I have learned over time, is that if you do not set the time aside for bible study, it will not happen organically. So here is what I suggest; get your bible, a notebook and a few pencils/pens and designate a time and place for you to ready/study your bible. Are you an early bird? Night owl? No worries, in order for this to become a habit, you have to make it your own. The point is to create a schedule that prioritizes a time to meet with the All Mighty Father and hear His Word.
Do you run out of steam when you start something new? Don't let this be one of those times! Set a goal and then get an accountability partner; look for someone else to help you stay on track. You can ask them to study the same thing so that you can bounce information and ideas off of each other, or not, but the most important idea is to keep yourself accountable! Unlike New Year resolutions, this goal is of eternal consequence. Steadfastness is a trait that God has that we can hope to emulate.
Over time you will learn and discover expectations that will be difficult to hear but know that God's ways are bigger than ours, and if we stay faithful and strong with Him, one day we will be able to talk to Him face to face! Have you ever noticed that when we feel strongly about something whether it be politics, vaccinations, GMO's, etc., we don't have a problem with researching it to death? Imagine getting to the point that we feel so strongly about out God that we don't want to stop hearing more and we search it out daily! In the words of Sam Cook, what a wonderful world that would be!
In the next three weeks we will talk a little more about the mechanics of studying your bible. Today I want to leave you with this thought; it takes month, years, sometime even decades to get to know your mate and to develop a lasting relationship so don't become overwhelmed at the thought of not know God enough, or at the effort that it takes. One day you will see that it was very worth it!
by Fee Rocha
Fee is a Christian wife and mother who lives in Sidney, Nebraska. She loves to work alongside her husband, Dustin in the ministry. She home schools her three children and loves a good nature documentary. Her biggest accomplishment is learning how to drive in the snow which serves her well as she drives her own version of the joy bus on Wednesdays and Sundays.