Mark 1:17
And Jesus said to them,
Follow Me, and I will make you
become fishers of men.
The water made a soothing sound as it lapped against the side of the boat.
The sky was blue-gray and a bit cloudy. The air smelled good. Mary Rose thought there was nothing quite like the smell of lake water. Even before they had arrived at the lake she could smell it and longed for it to come into view. She was glad she didn't have to wait long for the lake wasn't too far from their house.
Mary Rose and her Daddy were on a morning fishing trip.  They had stopped at the bait and tackle shop to pick up some worms. They were fishing especially for Sunfish and they liked worms, a lot. Mary Rose saw a few other people in the shop doing the same thing. Daddy introduced her to one older man who was known for his knowledge of fishing. He also had a "Learn to Fish" class.  He bent down, shook Mary Rose' hand, and said,
"They'll be biting today!"
When they had arrived at the boat area it was pretty empty, so Daddy had lots of room to work with getting the boat into the water. Slowly backing up, the trailer and fishing boat went into the water. Soon the boat was floating and tied to the dock. It sure didn't take them long to be situated and ready to launch out to where they thought the fish would be biting.
Being out on the lake was so relaxing. But they had to sit very quietly so as not to scare the fish away. Mary Rose sat watching the bobber on her fishing pole. Bob, bob, bob, up and down it went with the small waves. The hook with the worm was at the bottom of her fishing line and the bobber kept the hook with the worm at just the right depth to catch a sunfish. She was eating some potato chips when suddenly the bobber went all the way under and began to move away. Mary Rose mumbled with her mouth full of chips,
"Ohhh! I got one!"
She grabbed her fishing pole and began to wind in the line. She pulled back on the pole and it began to bend. Daddy cheered her on as she kept winding. As the fish came into view, Daddy bent down with the net.
"It's a keeper!" He said pulling it in.
"It ate the worm, Daddy!"
"It sure did! It must have liked the bait."
They took it o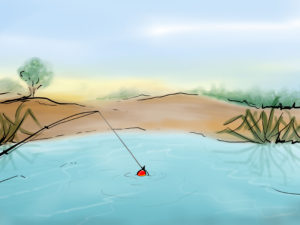 ff the hook and put the fish into a container that held lake water. Mary Rose thought it was fun watching the fish swim around. The fish were biting and after catching 5 more fish it was time to have their lunch. They had brought wet wipes along to clean their hands with from touching the fish and worms. Mama had packed them a basket with lots of goodies to last the day, plus a small ice chest for their drinking water and other things that needed to stay cold. It was fun to eat while sitting in the boat, and comfortable too for they had little chairs with a back to lean against that fit onto the boards that went across the boat for sitting.
"Fishing sure does take a lot of time," said Mary Rose.
"Yes, it does," Daddy replied. "And not only time but you have to have the right fishing equipment for the type of fish you want to catch, and fish in the depth of where they are."
Mary Rose remembered all the different kinds of poles, hooks, and lures they had seen in the bait and tackle shop. Daddy went on to explain, "Not every fish will go after a worm. Sometimes if you want a bigger fish the worm may be too small."
"So the bigger the bait, the bigger the fish?"
"As a rule that is true," answered Daddy. "Certain fish like certain kinds of bait. A larger fish needs a larger hook and bait that will attract it. They like to live down in the depths of the lake.
Mary Rose thought about how deep the lake might be and how big the fish might be deep within it. She could look down into the water a little ways, but it wasn't clear enough to see all the way to the bottom.
She said, "Lake water sure is different than being in a pool. In a pool, I can see all the way to the bottom."
Daddy brought the subject back around to fishing and began to talk about how there are many ways of fishing and how some people use nets.When they use a net they are trying to catch a lot of fish all at once."
"A long time ago when Jesus lived He saw men on the shore mending their nets and laying them out to dry.
He went on to talk about Matthew4:18-22 and Mark1:14-20. Jesus had been preaching about the kingdom of God and how it was soon to begin. As He was going along by the Sea of Galilee, He saw Simon and Andrew, the brother of Simon, casting a net into the sea; for they were fishermen. And Jesus said to them, "Follow Me, and I will make you become fishers of men." Immediately they left their nets and followed Him. Going on a little farther, He saw James the son of Zebedee, and John his brother, who were also in the boat mending the nets. Immediately He called them, and they left their father Zebedee in the boat with the hired servants and went away to follow Him.
"Jesus told them He would make them fishers of men."
Mary Rose thought it was funny to think of someone fishing for men.
"How were they going to fish for men?' She asked her Daddy.
"By using special bait," he answered.
These men knew all about fishing for fish, and now Jesus would help them use that same plan but with different bait. The kind of bait that would make a person want to follow Jesus. It takes the right bait, time, and effort.
The special bait would be Truth. The teachings of Jesus, and for people today it is the Word of God that is the special bait. Offering forgiveness through Jesus. It helps us fish for men and helps them be added to Christ's church. Acts 2:41, Acts 5:14
Just like there are lots of different kinds of fish there are lots of different kinds of people. But when fishing for men like Jesus taught, there is takes only one special bait that works for every kind of person. Reading His Word and Obeying what God says.
Reading God's Word and Obeying what He says.
Soon it was time to reel their lines in and pack things up to go. It had been a wonderful day and Mary Rose kept thinking about fishing for men.
The next Sunday in Bible class they learned all about how Jesus called His first disciples. Her teacher had several different lures to show, a net, and a Bible sitting nex
t to them. She also had lots of Bible time men and women lined up and one was Jesus. He was supposed to be preaching to them. Then she also had 4 Bible time men who were supposed to bePeter, Andrew, James, and John. The fishermen that Jesus had called to follow Him and he would make them fishers of men.
The class thought the Bible people were pretty neat and Mary Rose had a whole lot to add to the lesson and especially about the "special bait".
Greetings!
To my Sister Bible class teachers,
Do you like to fish? I have fond memories of fishing with my Grandma and Aunt. I love to think about Jesus calling His first disciples and the words He used to help them understand what they would be doing. "Fishing for men." It certainly does take the special bait to fish for men. But where do we look for these "men". In the depths of the ocean? No, but sometimes it seems they are hard to find. Begin with the person next to you. Your neighbor. Your co-worker.  Put the bait out there. Talk, be open with the Word. Be open about what God is offering us. Stir up interest. I love the Christ's Ambassadors Quest for Truth study series. You can find the study here!  Perfect love casts out fear. 1 John 4:15-21
Have fun fishing!
And don't forget, we have our little "pool to fish in" right at our fingertips with our Bible class students and their families.
This month's featured visuals aid are the Bible time people to make. They can be used for vairious Bible lessons!
Find directions with pictures here.
My prayers and encouragement go with you!
Serving in Christ,
Gwendolyn Schnell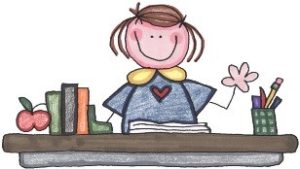 Latest posts by Gwen Schnell
(see all)