Peeking inside is what some windows are all about.
No curtains, or dark shades to keep your eye from wandering over to that inviting window where the light glows warmly, showing a living portrait. What may we see through those open welcoming windows? An empty room? A full room? People? People playing a game? Watching television? Cooking? Eating? Listening to music? Sitting around a fire? Visiting about the day? Hugging? Praying together? Laughing? Crying? Having a Bible study? The possibilities are endless of what we might see through an open window.
Most windows are welcoming and I have especially been attracted to windows with awnings. They somehow demand attention!
At our congregation, outside the office area, is a small foyer with little round tables and padded chairs. This foyer made me think of a cafe' setting, which lead me to think about our bulletin boards in this particular area. They needed something to complete the look of a cafe'. With no pattern except what was in my mind, I got started and this is how they turned out. Others liked the look of the awnings and they certainly helped with that cafe' setting of feasting on His Word.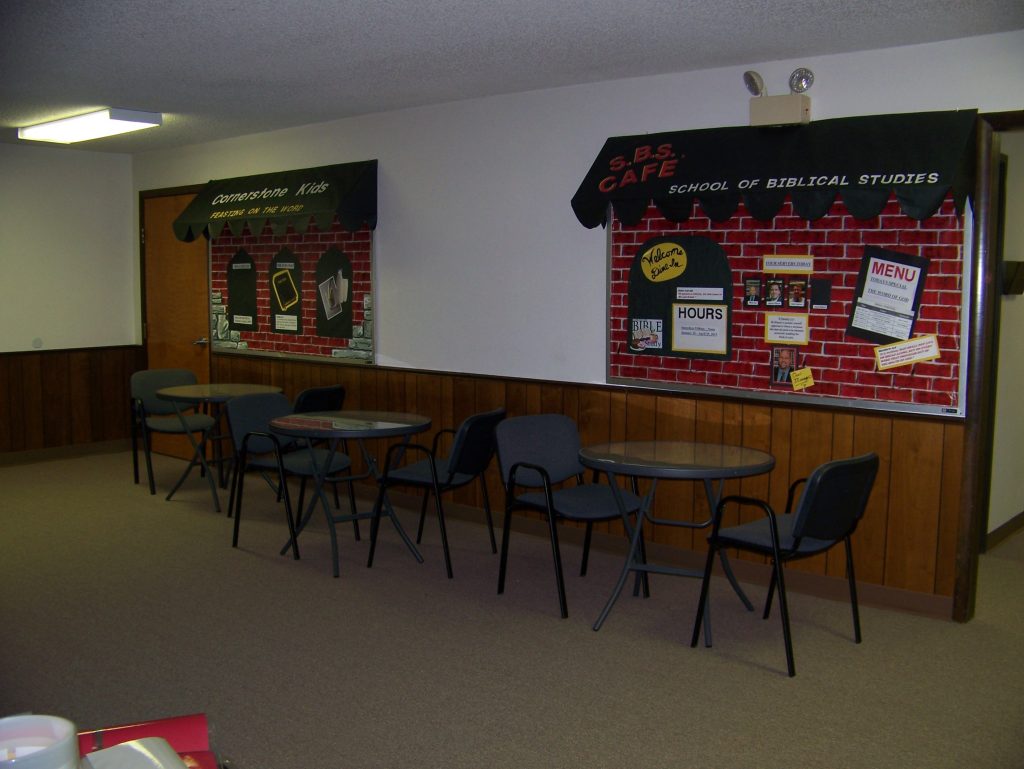 The Awning is what gave me the idea for a classroom "picture window." A window that would demand attention and make our students want to take a peek!
Imagine a wall (your classroom wall) with a window that lets us peek into the past. The real past! The past of Bible events! We might see a night scene where Rahab lets the servants down from her window and ties a scarlet cord in her window, Joshua 2:15-21. We might see Noah receiving the Dove back into the ark with an olive leaf, Genesis 8:6-12. Then again we might see into a town where Eutychus is sleeping in the window before falling out of it, Acts 20:7-12. This particular window can take us places! The Dessert, River Jordan, to the walls of Jericho, on the ark that Noah built, maybe even under the water with the big fish that swallowed Jonah!
Today I want to share with you how to make this "picture window" that lets us peek into the Bible past! I think it will be a useful tool that your students will enjoy as it displays the main picture of where your studies are taking you!
As Bible class teachers, I appreciate everything you do!! Time and money spent, your dedication as christians in loving our Lord, others, and yourself. Thank you for helping the The Word of God live in the hearts of so many!
My prayers go with you all and thanks for stopping by!
Gwen has been married to her supportive husband Dan for 38 years. Dan has been the pulpit minister for the Owasso Church of Christ for over 20 years and they both love working with the congregation there. They are blessed with 3 faithful children (a son, a daughter, and a son) who are married to Christian spouses, and they also have 3 wonderful grandchildren. Gwen has experience in teaching children's Bible classes from cradle roll – 6th grade for over 30 years and has also had the pleasure of opening up the Word with teen and adult ladies classes. She loves to share God's word and continues to grow with her students. Her favorite class to teach is 4th-6th grades.
Latest posts by Gwen Schnell (see all)