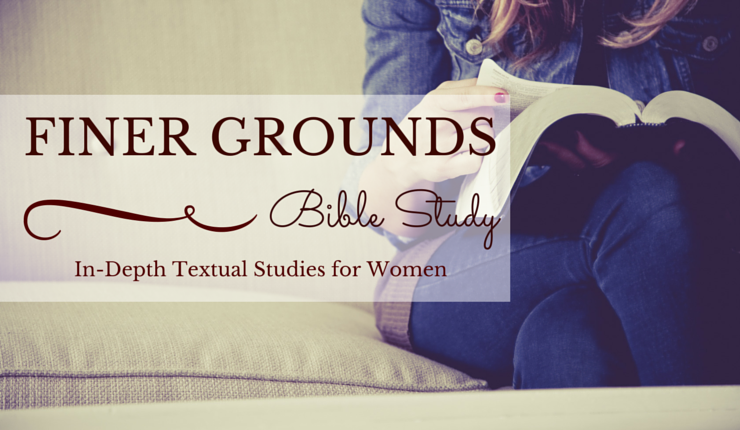 1, 2, & 3 John
Lesson 8: 1 John 3:11-24

Did you miss a week? CLICK HERE for a complete list of the printable lessons.
Read 1 John 3:11-15
This portion of Scripture expounds upon the idea introduced in 2:9-11—where we learnt that we are to love like Christ loves. Those who are following the example of Christ must display an active love for their brethren. A love for the brethren is a crucial part of walking in His light.
John tells them that they aren't to be like Cain (v.12) or the world (v.13-14), but are instead to love, just God has always intended them to (v.11)—this is the commandment that they had heard from the beginning (v.11-15). The commandment to love has been there from the beginning, as John said before, this is "no new commandment (v.11; 2:7). Cain did not follow this commandment—following the path of Satan (v.12).
Before we were told to love like Christ (2:7-8), now we are told not to hate like Cain. John adds to the narrative of Genesis and gives the reason for Cain slaying his brother, because his brother's actions were innocent and right before God (cf. Genesis 4:8). While it may seem harsh to be compared to Cain, the truth is that all who hate their brethren go in the way of Cain—they are following the path of "the wicked one" (3:10).
We shouldn't be surprised that the world hates us—because it hated Jesus, and we are following in His steps (1 John 3:13-14; John 15:8). The world hates—because they love the things of the world (John 2:16-17). But the children of God do not hate each other—we are instead called to go against the natural pull of the world. "For we ourselves also were sometimes foolish, disobedient, deceived, serving divers lusts and pleasures, living in malice and envy, hateful, and hating one another" (Titus 3:3). Our natural inclination is to hate—we must learn to love like Christ has taught us.
And the world will hate us. It says "if" here, but it would be better translated "since". The world will hate us if we are following Christ, because the darkness hates the light (John 3:19). An indication of purity is persecution. If there is an absence of persecution and hatred, there is an absence of purity: "Yea, and all that will live godly in Christ Jesus shall suffer persecution" (2 Timothy 3:12).
We know we have become new creatures in Christ when we exhibit a love for our brethren. "We know" here is emphatic, indicating that "we" know this, in contrast to the world. We are either living in death, or life; light, or darkness; in Christ, or in Satan—and when we hate our brethren, we can be absolutely certain we are in death, darkness, and following after the works of the devil.
Notice how hatred is equated with murder (v.15). This word "murderer", meaning "manslayer" is used only used here and John 8:44, where it is used of the devil. He makes it clear that this is to be taken seriously—because if we hate we are just as guilty as the murderer, Cain, who took his brother's life out of jealousy.
John says that no murderer has eternal life living in him. Hating our brethren will also put our souls at jeopardy. The contrast is clear: the presence of love for brethren signifies life whereas the presence of hatred signifies death.
Consider the reason that Cain killed Abel—because his deeds were evil and his brother's were righteous:
What can Cain teach us about the danger of losing sight of love as a motivator? 
Are we ever tempted to bring down good ideas and actions when we don't feel good about our own efforts?
What are some ways we can practice joy over the righteousness and success of others?
Consider what Cain should have done, rather than kill his brother.
Have you ever treated someone poorly, wished that something bad happened to someone, or been happy when some tragedy came upon someone you didn't like very much?
What does this passage of scripture you about how we should treat our brothers and sisters in Christ?
What are some ways you can get rid of negative thoughts you have towards another person?
Clearly all who hate do not murder. Why do you think John made this association and what can we learn from it? 
Read 1 John 3:16-18
John goes a step further here—not only are we to not hate our brethren, but we are to be willing to give up our lives for them (v.16). If we are to avoid the hate which motivated Cain, we must adopt the love which motivated Christ. God showed us through His Son what love is supposed to look like—active and sacrificial (vv.16-18). Jesus went ahead and did this first, "while we were yet sinners" (Romans 5:8). This is the epitome of love (John 15:13).
When John says, "we ought to lay down our lives for the brethren" there are two interesting things happening here: First, "for" here literally means "over" or "upon". Imagine someone who dives on a bomb or in front of a bullet to save someone. Secondly, "we ought" literally means, "we must continue to". We must continually lay down our lives over the lives of our brethren. We are living sacrifices for our them (Romans 12:1, 2).
John realizes that we may not be called to lay down our lives for our brethren, so John explains that our faith must be active—not just words (v.17-18). He uses a rhetorical question: "But if anyone has the world's goods and sees his brother in need, yet closes his heart against him, how does God's love abide in him? " or, paraphrased: "If you don't give to your brethren in need, how does the love of God dwell in you?! How can we expect to be willing to give up our lives when we aren't willing to give of our time and means to our brethren?" (see also James 2:16). The picture here is vivid: "shuts up his bowels of compassion" gives us the word picture of a person slamming a door. While we may not feel like we slam doors in people's faces we can, in effect, do this every day by what we choose not to do.
"Greater love hath no man than this, that a man lay down his life for his friends." (John 15:13)
How willing would we be to give up our lives for someone we can barely tolerate? What does this say about the all-too-popular saying: "I have to love my brethren, but I don't have to like them!"
How can we be more aware of our brethren's needs?
Sometimes our brethren can have a lot of need. How can keep from becoming cold/callous? 
There clearly is a relationship between feeling and giving. However, we see more need than we can respond to. How can we prioritize?
Write a list of ways you can better show your love through action to your brethren?
Read 1 John 3:19-21
John goes a step further yet again and tells his audience that not only must our actions towards our brethren be right, not only must we be willing to die for them, but also our motives must be pure—because God knows our heart (vv.19-21). We can only have confidence ("boldness"—same as 1 John 2:28) before God when we develop a love in our hearts for the brethren: "by this we shall know that we are of the truth and reassure our heart before him" (v.19). When we have this confidence, then our hearts will be at rest in His salvation—"shall assure" here means "quiet, persuade; convince; passify".
There are times when our hearts will not be at ease, and "our heart condemns us" (v.20). Our consciences will usually tell us if there is something wrong and we shouldn't ignore the nagging feelings that we need to help or that we are at odds with another.
God knows our hearts—so if in our heart we hate, He will know and hold us accountable (v.21). We cannot have confidence before God or a relationship with Him if we are at odds with our brethren (Matthew 5:23-25; James 3:16, 17). Part of walking in the light is having fellowship with God and the brethren (1 John 1:7).
What does this say about the importance of the motivations for our actions? 
How can we develop the feeling of love if we don't currently feel it?
How can we train our consciences if they have been moved "past feeling" (cf. Ephesians 5:19)?
How should we change if we have a troubled conscience? How can we tell if that conscience is directed in the right way?
Read 1 John 3:22-24
Confidence in prayer is the privilege of the Christian who is walking in the light and has the right attitude towards his brethren (v.22). We should be able to approach God in prayer boldly (Hebrews 4:16) but this can only be done when both our hearts and our actions are pure—then we can know we are truly keeping His commandments and we are pleasing in His sight. When we are right before him, He will never mock our sincere requests (James 1:5). John equates loving our brethren with being pleasing in the sight of the Lord (v.22) and keeping his commandments (v.24).
John then stops to remind his readers of how simple it really is to obey God (v. 23). John is writing in response to a very complex, complicated system of error—and while this passage may seem to oversimplify the issue, it is possible to see the two great commands in this passage (Matthew 22:37-40; Mark 12:28-31). While there is a lot to God's law, really all of God's law can be summed up by saying that "We are to believe in Jesus' teachings, follow Jesus' example, and love one another as He loved us."
Another thing that brings us confidence is having God abide with us, and knowing that we abide in God, because of the Spirit He has given us (v.24). While they had spiritual gifts in their time to give them confidence and confirmation, today we have His commandments fully revealed and can have the same confidence they enjoyed in the 1st Century.
Do we really receive everything we ask for? 
How can find harmony between this statement and reality? 
Why aren't all of our prayers granted exactly as we want them to be?
Consider 1 John 5:14-15
John says we know that He abides in us by the Spirit which He has given us. 
How do we know He has given us the Spirit? 
Discuss the various possible interpretations of this passage.
Consider John 15:7-10; 1 John 4:7; 1 Corinthians 3:16; 6:19; Galatians 4:5, 6
by Chantelle Swayne
Would you like to join the discussion? CLICK HERE to access our Facebook group and study through 1, 2, and 3 John with women all around the globe!