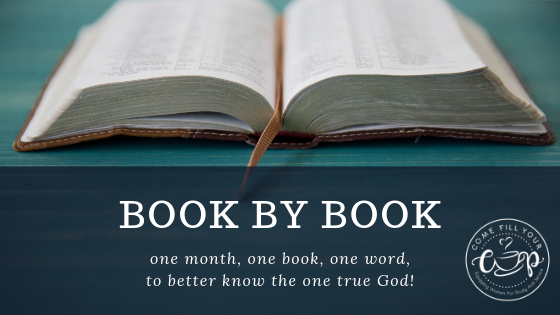 One of the keys to getting anything to stick in our long-term memory is repetition. God, knowing the inclination of His people to forget, blessed them with what we know as the book of Deuteronomy. It literally means "the second law", but it is often called the "book of remembrance". Moses, at 120-years-old, over the span of forty days gives a series of sermons to a new generation of Israelites as they prepare to enter the Promised Land under new leadership. An important key word throughout is "remember" as Moses repeats and expands upon the law that was given at Sinai. His message goes like this: Remember what God has done (chapters 1-4), remember what God expects (chapters 5-26), and remember what God has promised He will do (chapters 27-30).
There are a number of repeated words and phrases that emphasize important principles from Moses' heart-felt teaching. Consider these themes from the book of Deuteronomy of which we also need to be reminded.
The greatest way to glorify God is to order our lives around Him. According to Numbers 12:3, Moses was the most humble man on the face of the earth. His humility is evident as he recounts the history of the previous generation. Notice the phrase "the LORD your God" used some 280 times throughout the book. Moses could have easily reminded them of his own leadership successes, but instead it was always God who chose, multiplied, carried, blessed, delivered, and gave so that His people lacked nothing (Deut. 2:7). The challenge remains for us as Christians to continually remind ourselves and others to put the focus on Him (John 3:30).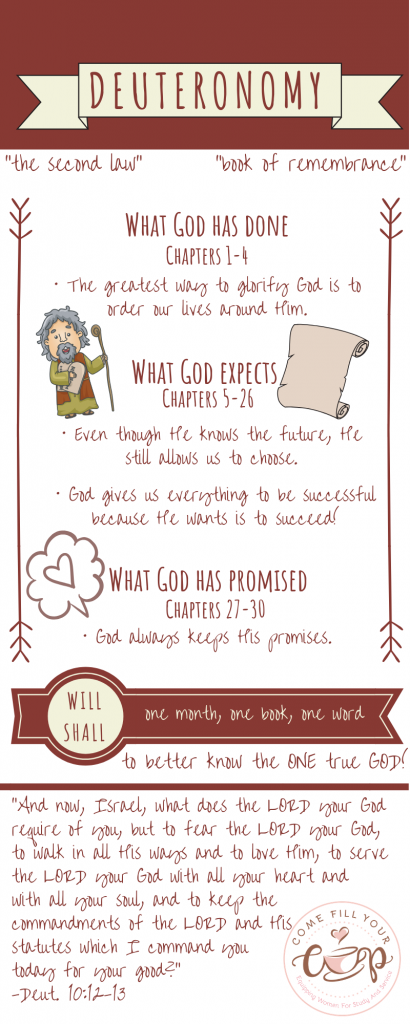 Even though He knows the future, He still allows us to choose. It is difficult to wrap my mind around the fact that it was fully within the power of the Israelites to choose the direction of their life even though God already knew the outcome (Deut. 27-30). This speaks to the sovereignty of God. This book is filled with prophecy of things that would happen in their future based on choices that had yet to be made. They would desire a king (17:14ff), be scattered and sent to captivity (28:41), but they would also have the hope of returning (30:2-4). God still knows what the future holds for each of us, but the choice remains completely ours to make (Gal. 6:7-8; II Cor. 5:10).
God gives us everything we need to be successful because He wants us to succeed! "Observe" is another key word throughout the book, and it is usually paired with the admonition to do so carefully. Chapters 27 and 28 (and many other places) clearly lay out His expectations and associated consequences. He did not leave out any details of what was required of His chosen people as if He were waiting to say "gotcha", but rather through Moses expressed His desire that they "choose life" (Deut. 30:19). The commandments of God, though sometimes challenging to uphold, have always been and will always be for our ultimate good!
"And now, Israel, what does the LORD your God require of you, but to fear the LORD your God, to walk in all His ways and to love Him, to serve the LORD your God with all your heart and with all your soul, and to keep the commandments of the LORD and His statutes which I command you today for your good?" (Deut. 10:12-13)
God always keeps His promises. If there is one faith-building area where we all need reminders, it is the faithfulness of God. When I say that I will do something, I have every intention of doing it, but sometimes I forget. We are surrounded by a world filled with good intentions and many who never plan to fulfill their promises. It is easy to begin to question whether God might do the same. Our challenge word for the month is "will" and in some versions "shall." Notice the number of times Moses assures the people of the things God will do. Make a mental note of each time you can recall that those things came to pass in future books. Spend time meditating on and memorizing Deuteronomy 7:7-9. Trace Deuteronomy 7:6, 14:2, and 26:18 to I Peter 2:9. Dig into the meaning of the words in those verses and thank God that His promises remain for Spiritual Israel, His treasured possession.
An article of this length barely scratches the surface of the riches found in Deuteronomy. In the closing chapters as Moses finishes his address to the people and a new leader is anointed, there is another great reminder to the Israelites that God's work will go on. As you spend the month digging into Deuteronomy see what other important lessons you might need to be reminded of. Don't forget to read, study, and REPEAT!
Latest posts by Kathryn Baker
(see all)