Kristy Huntsman, Editor-in-Chief
Kristy is the author of Sanctified (A study of 1st & 2nd Peter), Redeemed (A Study of Hosea), and Appointed (A Study of Judges & Ruth). She and her husband Lance attend the Stonewall Church of Christ in Stonewall, OK, where Lance is the minister. She is a stay-at-home, homeschooling mommy of two sweet girls Taylor (13) and Makayla (11).  Kristy has a Master's Degree in Biblical Studies from Bear Valley Bible Institute as well as a Bachelor's and Master's degree in music.
Abigail Buchanan, Associate Editor
Abigail S. Buchanan is freelance writer and editor based in Laramie, WY. Since obeying the Gospel in 2015, Abigail has done her best to use the opportunities and abilities God has given her to glorify His Son and bring more people to Jesus. She's had two poems featured in Christian Woman Magazine, several articles published on the Come Fill Your Cup blog (for which she now serves as an associate editor), and has spoken at one of the CFYC Fall retreats.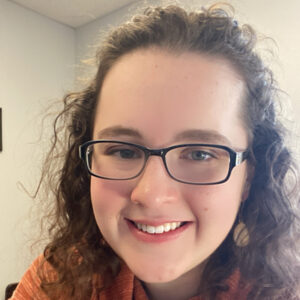 Mattie McCarty, Associate Editor
Mattie McCarty is a member of the Country Club Road Church of Christ in Roswell, NM. She loves to work with kids and experiment in the kitchen in her free time. Currently, she is attending school for interior design and professional organizing. Mattie has been teaching children and teen girls Bible classes for 4 years. Some of her hobbies include reading, sewing, and dog sitting.
 Re'Elle Crowell, Associate Editor
Re'Elle Crowell is a student at Freed-Hardeman University studying accounting with an emphasis in fraud examination. She intends to use the knowledge and skills that she gains from school to serve the Lord's church as well as others in need. Her hobbies include reading, writing, and karate. Her favorite pastime is studying God's word, especially with her fellow sisters in Christ.

Julie Rennaker,
Online Bible Reading/Study Coordinator
Julie and her husband James worship with the Sterling church of Christ in Sterling, OK, where James is the minister. They are blessed with six children. Julie stays busy homeschooling the youngest four boys, teaching children's Bible classes, and leading ladies' classes. She is a graduate of the University of Oklahoma with a bachelor's in Elementary Education.
Kellie Hudson,
Online Bible Reading/Study Coordinator

Lacy Crowell, Generations Contributor
Lacy Crowell is the editor of Come Fill Your Cup's upcoming feature: Generations. She and her husband, Jonathan, worship with the Garriott Road church of Christ in Enid, Oklahoma where Jonathan serves as the Youth/Family Minister. They are blessed with four precious children which Lacy has the privilege of homeschooling. Lacy has an Associate's Degree in Biblical Studies from the Bear Valley Bible Institute, and a Masters of Arts in Marriage and Family Therapy from Amridge University. She has been published in Christian Woman Magazine, Think Magazine, Queenly Quest and KAIO Publications, and has spoken for various ladies' days, girl's youth rallies and camps both domestic and foreign.

Kathy Pollard, Bible-Marking Contributor
Kathy Pollard is a graduate of Faulkner University.  Her husband, Neal, preaches for the Bear Valley church of Christ in Denver, CO.  They have three sons—Gary, Dale, and Carl.  Kathy is an instructor in the Women's Program at the Bear Valley Bible Institute International, a director of Higher Ground (a Bible camp for teen girls), and the author of Return to Me—What to Do When Loved Ones Fall Away.
Gwendolyn Schnell, Perk Up Your Bible Class Co-Editor
Gwen has been married to her devoted husband Dan for over 41 years. He has been the pulpit minister for the Owasso Church of Christ for over 25 years and they both love working with the this outstanding congregation. Dan and Gwen are richly blessed with 3 faithful children who are married to faithful spouses, and are even further blessed to have Jonathan, Matthew, Micaiah, and Lydia join the ranks making them Grandma/Nina, and Opa! Gwen has had the pleasure of putting the Word into the hearts of children for over 30 years, and 4th and 5th grades are her favorite children's Bible classes to teach. On occasion, Gwen has opened the Word with teen/adult ladies classes and has had the pleasure of speaking for couple of ladies days, but personal home Bible studies are among her favorite ways of opening the Word with others.
Kathy Petrillo, Perk Up Your Bible Class C0-Editor
When Kathy was a high schooler and only 17 years old, she begged the elders of her congregation to let her teach a Bible class. She absolutely loved it and was hooked for life. She is the wife of Denny Petrillo who has been the president of Bear Valley Bible Institute in Denver since 2003. They have been at working with the Institute and Bear Valley church of Christ for 33 years. They have been married 40 years. They have 3 children, 5 grandchildren and one active kitty cat. Kathy currently teaches two women's classes at Bear Valley Bible Institute. One is a public speaking class. The other is teaching women how to teach children's Bible classes.

Erynn Sprouse, Creator/Contributor
Erynn Sprouse is the author of Perfected: God's Best Reserved For You (A Study of Hebrews). Erynn has been married to Jeremy since 1999. She earned her Associates from Adams State University and her Bachelor of Arts from Bear Valley Bible Institute of Denver. She is the creator of Come Fill Your Cup women's ministry, including website and retreats. She has enjoyed speaking for ladies' days and retreats in several states. She is a stay home, homeschooling mom to five boys and one girl in Dublin, Texas where Jeremy serves as the pulpit minister.