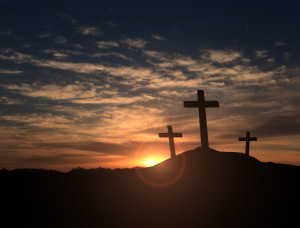 For today's Christian, the future speaks of things that cause much worry and anxiety. Many are saying that persecution is coming for all Christians around the globe. That thought brings fear because many of us have enjoyed the freedom to worship God as He commanded. What happens when there is a time that we cannot openly do so? Or we are even physically harmed for doing so? What should we do? The truth is, persecution has been around for a very long time. The Bible has much to say and in this series of articles, we will be looking at six points to ponder from God's word. Today, in this first part, we will look at our perfect Potentate (or King).
When pondering persecution, one of the things to think about is the first one who suffered for the sake of the church. We should think about who He was, what He suffered, and how He faced it. The church itself was born through this suffering and persecution He endured. A close look at this 'birthing labor' would be beneficial to all of us.
One could write whole volumes on who He was, but we shall see just a few points today. John chapter one gives an amazing summary of this. I encourage you to read the entire chapter, but for now we will look at just a few verses.
"In the beginning was the Word, and the Word was with God, and the Word was God." John 1:1
So He is described here as the Word. This Word was with God and was God. This is very important. He (the Word) lived in heaven with God. AND He WAS God. We are talking about the divine here. Later John says:
"And the Word became flesh, and dwelt among us, and we saw His glory, glory as of the only begotten from the Father, full of grace and truth." John 1:14
This was no ordinary human. He was God, come down in the flesh and He was full of grace and truth. If He was full of truth, then we should take note of every word that comes from His mouth and take notice of His actions as well. This phrase "grace and truth" is repeated in verse 17 again. When the Bible repeats, take extra notice. We can trust every word this God/man said. He was called Jesus.
John also recorded that He was called the Lamb of God (vs. 19) as spoken by John the "baptist." This was significant to the Jews and reference to the symbolism of His coming death. One other name to note, John 1 records "Messiah" as spoken by Andrew to his brother, Peter. The Jews were looking for the coming Messiah as prophesied and Andrew excitedly shared this news with Peter. The prophets spoke of a Messiah that would save the people from their sins. This was his purpose for giving up the home with God.
The way in which this salvation would come, to our human minds, didn't make much sense. There were many that heard Him speak and thought He would come with power and take over Israel's throne – overthrowing the harsh Romans who oppressed them. He would be a great king in the earthly kingdom of Israel. Peace and prosperity even greater than their greatest king, David, had found would once again be known throughout the land.
But that was not God's plan. God's plan was that Jesus would die for His people. Again, we could spend much time on this topic, but we will look at important aspects of His death:
-betrayed by one of His closest disciples (Mark 14:43-46)
-false witnesses testify against Him (Mark 14:57-59)
-false condemnation (Mark 14:63-64)
-people spit on Him, mocked Him, beat him (Mark 14:65)
-denied by a close friend (Mark 14:66-72)
-interrogated by Governor Pilate (Mark 15:2-4)
-condemned by the crowd (Mark 15:13-14)
-sentenced to be scourged and crucified (Mark 15:15) (Information on the scourge here: http://www.bible-history.com/past/flagrum.html)
-mocked and beaten again (Mark 15:17-20)
-crucified with thieves (Mark 15:27)
-separated from God (Mark 15:34)
-became sin for us (2 Corinthians 5:21)
You might be saying, "But I know all that." As Christians we should remind ourselves at least weekly what Christ went through at His death. But we want to look at this aspect of it: He went to the cross for joy. What? Yes, for joy. Take a look:
"…fixing our eyes on Jesus, the author and perfecter of faith, who for the joy set before Him endured the cross, despising the shame, and has sat down at the right hand of the throne of God…." Hebrews 12:2
What was this joy that Jesus was thinking? How could all that suffering bring about any joy at all? God's wisdom is not man's wisdom. Jesus knew something the humans at the time did not. Let's take a look at what Jesus was thinking about:
" Now to Him who is able to keep you from stumbling, and to make you stand in the presence of His glory blameless with great joy," Jude 1:24
He was going to be so full of joy. When? When He presents us (His church, His chosen) to God. We will be faultless. How could Jesus make us – fallible humans – faultless, perfect, without blemish? Through the shedding of His blood which washes us:
"and from Jesus Christ, the faithful witness, the firstborn of the dead, and the ruler of the kings of the earth. To Him who loves us and released us from our sins by His blood—" Revelation 1:5
So, when we face trials, let us keep in mind the same thing Jesus did: the end result. Peter says it very well:
"In this you greatly rejoice, even though now for a little while, if necessary, you have been distressed by various trials, 7 so that the proof of your faith, being more precious than gold which is perishable, even though tested by fire, may be found to result in praise and glory and honor at the revelation of Jesus Christ; 8 and though you have not seen Him, you love Him, and though you do not see Him now, but believe in Him, you greatly rejoice with joy inexpressible and full of glory, 9 obtaining as the outcome of your faith the salvation of your souls." 1 Peter 1:6-9
In our next persecution points to ponder, we will look at how we are a peculiar people. In the meantime, keep looking to Jesus with joy in your heart for what He has done for you.
by Dawn Pasley
Dawn Pasley has been married to her college sweetheart, James, for more than 21 years. They attend Fraley's Chapel church of Christ in Corinth, MS where he works as a minister. Together they have 5 children: a son and 4 daughters. She is blessed to be a homeschooling mom and enjoys her family, church family and pets. A graduate of Faulkner University, Dawn has a degree in Elementary Education.