1 Peter 3:3-4
Your adornment must not be merely external — braiding the hair, and wearing gold jewelry, or putting on dresses; but let it be the hidden person of the heart, with the imperishable quality of a gentle and quiet spirit, which is precious in the sight of God.
Today was the day when Mary Rose was to visit her Great Grandparents! She really liked spending time with them and she was looking forward to showing off her brand new shoes! As they drove down the road she saw many different houses. Some big, some small, some old, some new. But there was never anywhere as special to visit as her Great Grandparents house. The car finally pulled into the driveway. She could see the house with its faded paint and an over grown scraggly looking rose-bush that had grown up and over the porch railing. One good thing about it is in the spring it would be covered with roses. Mary Rose ran up the worn steps listening to her new shoes tap every time her foot touched one of the steps. She opened the screen door and knocked. Soon the heavy wooden door opened with a creek. She liked the way it sounded. Even though the outside of the house was a bit worn, she knew the inside was warm and cozy and had some really fun hiding places for playing hide and seek. Plus it always had yummy smells coming from the kitchen. Her Great Gramma and Grandpa greeted her with smiles, hugs, and kisses. Her Great Grandpa said, "Oh Mary Rose how good it is to see you!" He walked with a curved stick, sort of like a cane. Thump, thump it went as they walked down the hall.  "How do you like my new shoes, Grandpa?" Mary Rose asked. "I FINALLY got them and all the girls wear them at school. They will WANT to play with me when they see I have new shoes just like theirs!" Her Grandparents looked at each other and didn't really like what they were hearing. Gramma would find time to visit with Mary Rose later.
When Mary Rose came they always tried to have something special planned to do. Today they were making pinch pots!
One of the things Mary Rose liked the most about their projects is how her Great Grandparents always had a story to go along with whatever they were doing. A long time ago they had been missionaries in Africa and Mary Rose loved to listen to them tell about the land, the people who lived there, animals they saw, and what they did while they were there. It had been their special job to teach these people about Jesus
and how to be added to His church and then help the people learn how to continue to obey God. It was and still is such an important job! Before they began their project Gramma was thinking of the best way she could help Mary Rose see "beyond" her new shoes. She began by pulling out a picture album and telling Mary Rose of how they came to love the people and showing just how they had looked. Most of the people they saw were not well dressed. Mary Rose looked down at her new shoes still being excited about having them. And some had dust on them from working in the ground and did not smell very well. "Sounds like they needed a bath." Said Mary Rose. "Yes, they did." Said Gramma. "But we took a chance and spoke with them. We were with them just about every day so we got to know them more and more and were able to see
the beauty and the goodness many of them had hidden within, way down in their heart. One man who had obeyed God had become a very special friend to us and it was this man who made your Grandpa's cane. Years ago when Grandpa was a lot younger he used it as a walking stick to help him climb the hills to tell others the good news about Jesus. But now your Great Grandpa needs help walking everywhere and each time he uses his it he remembers his special friend." Gramma walked down the hall and Mary Rose followed. She opened the door of the room in which Mary Rose had never been allowed to play and in they went. She knew it was a special room because it had all kinds of things inside brought back from Africa. Great Grandma told Mary Rose to look around and see if she saw anything that was pretty or caught her eye. Mary Rose looked around and could see the outline of a few different shapes sitting on the window sill. They were clay pots. She saw other things in the room but nothing that seemed very special to her. She said, "I like the shape of the pots but they are not fancy at all and in fact are dull brown, old-looking, and just plain worn out and one of them is even cracked." Grandma brought Mary Rose closer to the pots and told her one of the things that made them special is that they were handmade. She took one down that had a lid and held it in her hand and then told Mary Rose that upon seeing the outside of the pot one may not think it was very special and wouldn't be anything anyone wanted. "But," she said, "You never know what you might find inside." She took the lid off and Mary Rose peaked inside. She was so surprised to see a bright yellow background overlaid with a gold flowery designed edged in black. "Oh," Mary Rose gasped, "the inside is so beautiful!" Gramma said, "One thing we learned from meeting so many different kinds of people is that it doesn't really matter what people look like on the outside or even smell like, it's how they are on the inside that really matters." Gramma looked at the new shoes that Mary Rose had on and said, "We are happy about your new shoes but I am sorry you feel like the only reason those girls would want to play with you is because you now have them. What matters most is the kind of girl you are on the inside. The good, sweet, honest girl WE know. A girl with a gentle, quiet spirit who loves God. This is what matters most! The hidden person inside is what made all those people we met in Africa worth knowing, and that's what makes you worth being around and played with, not new shoes. Someday your new shoes will be old-looking and then what will you do? Things start out all new and pretty but then they get old and wear out. We grow old and get wrinkles but we have to remember that we are made ESPECIALLY by God and our true beauty is found inside. Like this pot." "And kind of like this house." Added Mary Rose. At one time it must have been new and pretty, but now the paint is faded, the steps are worn, and the door creeks when you open it, but when you get inside, it is warm and cozy and I love being here with you and Grandpa."  She looked down at her new shoes and said, "I guess I can still like wearing my new shoes but now I know it is what is hidden down INSIDE me that matters and makes me special and likeable. Her Great Grandma hugged Mary Rose and set the pot back on the window sill.
They headed out to the table to begin their project where her Great Grandpa was waiting. Mary Rose told him just how she wanted to make her pinch pot. "Old looking on the outside and bright and pretty on the inside! Because the inside is what really matters." Her Great Grandparent's eyes met and they smiled.
Greetings!
To my Sister Bible class teachers,
As I was sitting in the car at a stop light I happened to notice a manicure business that had this quote on the outside of their building.
 "It's where true beauty begins."
How sad it is that we are tempted to believe this lie! I like style but that is NOT where my true beauty begins. Let's encourage our students to take a closer look at themselves and those who they feel are their "friends" and remember what truly makes them beautiful.
 James 2:2; 1 Samuel 16:7; 2 Corinthians 4:16.
This month's featured visual aid is a pinch pot!
Make one for the class or encourage your students to make one and paint the inside bright and colorful as a reminder of where our true beauty lies. Inside.
You may want to add the reference 1 Peter 3:3-4.
Find out how to make pinch pots at this web site.
http://www.wikihow.com/Make-a-Pinch-Pot
My prayers and encouragement go with you.
Serving in Christ,
Gwendolyn Schnell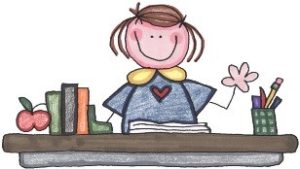 Latest posts by Gwen Schnell
(see all)