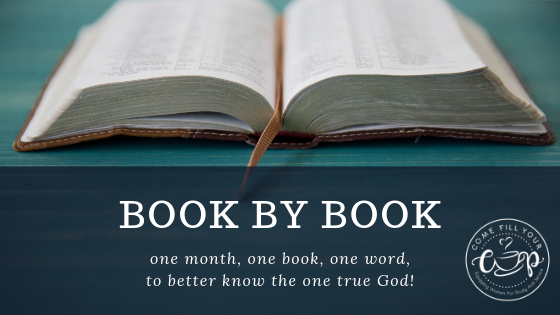 The books of First and Second Samuel originally came as one book.  It wasn't until the Septuagint and limitations in scroll length that they were divided into two books.  Still, they detail a continuous history spanning 140 years as the children of Israel transition from the period of the judges to an earthly king that they request (I Sam 8:6).  It is a transition from a theocracy to a monarchy as the Israelites, influenced by the surrounding world, choose to reject God as their sovereign ruler in favor of being like the other nations.  As you soak up the history contained in these 55 chapters, keep these 3 "P's" in mind.
The People
One of the exceptional features of these books is the detailed contrast of the characteristics of the prominent individuals living through this part of Israelite history.  It lends itself to great introspection and application.   Samuel, the last judge and a faithful prophet of God was a man of prayer (1 Sam 12:23) and of boldness – speaking the truth without fear of men (I Sam 7:3; 1 Sam. 12).  From him, we learn the importance (and possibility) of obedience to God no matter what others around us are doing. Saul's outward appearance seemed promising (I Sam 9:2), but his character was found lacking (I Sam. 13:13-14; 15:11).  He went from disobedience to complete delusion in jealous violence.  His character flaw seemed to lie primarily in his desire to please people over his conviction to obey God.  We see manifest in his life that God resists the proud (Jam. 4:6-7).  David is an excellent example of both what to do and not to do.  We learn from him the blessings that come with humility and steadfast trust in God, but also that sin has disastrous consequences.  In studying each of their qualities it leaves me with the observation that, in many ways, I want to be like Samuel and David but sometimes find myself more like Saul.  How about you?
The Purpose
"Your house and your kingdom shall endure before Me forever; your throne shall be established forever" (II Sam. 7:16). This is the overarching theme of what God is doing in the books of Samuel.  Long before it was ever stated in Daniel 4, we see that God rules in the kingdoms of men.  Through the rise and fall of kings, God is doing what He's been doing all along – bringing about a Savior.  The emphasis of II Samuel is the promise that this King would come through the seed line of David. "And your name will be magnified forever, saying, 'The LORD of hosts is God over Israel,' and the house of your servant David will be established before you" (7:26).
The Prayers
They say the eyes are the window to the soul, but so are the words of heart-felt petitions to God.  From Hannah's in the first chapter to David's in the very last, prayer is an important theme in the books of Samuel.  There are dozens of petitions, confessions, blessings, and praises referenced and recorded.  Sprinkled throughout is the phrase "inquired of the Lord". This is your challenge phrase for the month.  Make note of who was seeking the Lord's counsel, what was the dilemma, and what was the answer? Not only does it give insight to the character of the person praying, we can take great comfort in knowing that our God is listening, working, and stands ready to give counsel and forgive.  Have you ever prayed like Hannah, Samuel, Saul, or David?  If not, why not?
Ultimately, the books of I and II Samuel are great studies because of what we learn about our great God!  Through the triumphs and turmoil of the first two kings of the United Kingdom, God still had a plan, God still was glorified even when man didn't choose to follow Him.  God's purpose will always succeed.  If you need a fourth "P" as you study, Praise Him!
 by Kathryn Baker
Latest posts by Kathryn Baker
(see all)