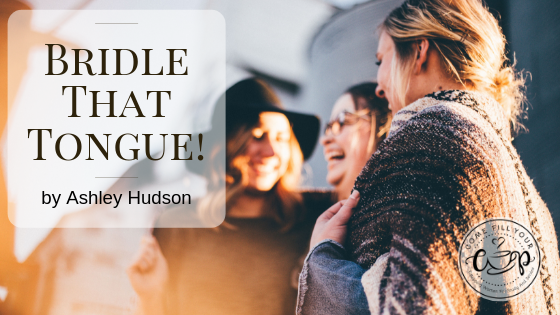 Have you ever been on the receiving end of a comment that left you with a cold, aching, hatred in your heart? Have you ever muttered words that left another feeling the same way?  I am shamefully guilty of this, and I have felt the sting of the repercussions on both ends of the hurtful words.
The way we speak to one another can get out of hand at times due to lack of concern for the other, pride, hatred, hurt feelings, seeking selfish gain, and many more factors.  The mouth is such an important part of our lives, but it can turn ugly quickly when tempers become aroused.  Psalm 34:13-14 states "Keep your tongue from evil, and your lips from speaking deceit.  Depart from evil and do good; Seek peace and pursue it."  The Bible also tells us that "Whoever guards his mouth and tongue keeps his soul from trouble" (Proverbs 21:23). Guarding our tongues from speaking evil of others is such a daunting task at times, it seems. As humans, when we become hurt, it is in our nature to justify our pain, and out of that pain flows words uttered about another that are hard to erase.  As Christians, it is our obligation to seek peace and pursue it.
The book of James gives us some insight on our words in chapter three.  It explains how little things make a big difference.  He gives us two examples of small tools used to maneuver larger items, and compares them with our tongues controlling our whole bodies.  The horse is given a small bit that is places in its mouth, in order to turn its body in the way the rider wishes to go.  A large ship utilizes a small rudder to steer it wherever the pilot may want to go.  In the same way, our tongues are very small members, and can steer us in many different directions.  When used wisely, out tongues direct us closer to others and to our Father and Creator.  When used foolishly, our tongues spark a wildfire destroying fellow Christians and, as stated in verse 6, an unruly tongue sets us on a course to destruction. As we read further in the text, we see how we use our tongues to glorify and bless our Father, and in the same breath, may curse others. The writer warns us that we should not make this so in verse 10. He explains how a fresh spring cannot also create stagnant water from the same opening and a fig tree can only bear figs.  In this same manner, we must show consistency with our words. If we are to be wise on this earth, we must show good conduct and bear words that show wisdom through meekness (vs 13).
I believe the main driving force behind the fire we cast out of our speech sometimes comes from our own selfishness. We seek our own will against the will of others, and if that will is threatened, we tend to lash back with hurtful comments. James challenges us to purse an active faith which will produce changes in conduct and character.  We must challenge ourselves daily to continue to live lives of purity and self-control while seeking peace with others. We must attain godly wisdom to control things such as the tongue from ruling our lives. Search the scriptures daily so you may have His word in your hearts every moment makes it easier for us to speak well of another out of our love and respect for the Father and His word.  Pray to the Lord that He may help you bridle your tongue in your times of distress and seek peace with others.
I understand that this is such a hard trait to obtain, but I believe it can be done.  I continually struggle with my words and my tone with those who are closest to me at times, and I believe that at the end of the day, if I try my hardest to correct the wrong, pray for forgiveness, and let those whom I hurt know of the love I have for them in my heart, then I will live to fight another day with the battle of the tongue, and my brothers and sisters in Christ will encourage me on as I fight the battle.  I believe this is true for all of us as well.
"For where envy and self-seeking exist, confusion and every evil thing are there.  But the wisdom that is from above is first pure, then peaceable, gentle, willing to yield, full of mercy and good fruits, without partiality and without hypocrisy.  Now the fruit of righteousness is sown in peace by those who make peace." James 3:16-18
May we all seek righteousness and peace with all, and continue on with the task of controlling our tongues out of love for the Father and love for another.
By Ashley Hudson