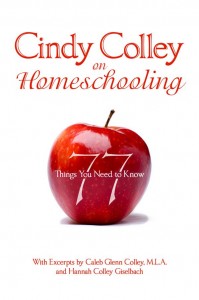 Are you thinking of homeschooling?  Or have you been homeschooling for years?  Either way Cindy Colley on Homeschooling is the book for you!  In the book, Cindy discusses a lot of the questions you might have as a beginning homeschooler on topics such as socialization, curriculum, and record keeping. She also offers great advice on discipline. If you have been homeschooling for a while, there are chapters in this book that could benefit you, also. She talks about areas such as what to do when you get discouraged, your homeschooler getting a job while still young, and thinking ahead to college.
The book  contains 77 things you need to know about homeschooling. It is written in such a way that you could read each one of the 77 things in 5 minutes or less, so you could read at your own pace and leisure. It is very easy to read if you are a busy mom.
I really loved reading about all the fun and exciting activities that the Colley kids, Caleb and Hannah, got to be a part of while they were homeschooled. This got me more excited and energized about my own children's homeschool activities. Caleb and Hannah also shared their perspectives on their experiences homeschooling. Hannah has a very interesting perspective since she homeschooled all her life and is now a public school teacher.
The last chapter of the book Cindy reminds us not to "allow ourselves or our children to become smug about our homeschooling choices," or "get cliquish with others who homeschool and begin to exclude non-homeschooling families from spiritual or fellowship activities."  She has included some great tips on how to relate to others who do not homeschool.
I encourage you to read this book whether you are thinking of homeschooling, currently homeschooling, or even have a friend or family member who might not understand why you choose to homeschool.
To see how to order this book click here.
By Sharla Orren
Sharla has a BA in Sociology from Henderson State University. She loves homeschooling her two boys, Cash and Keyton. She is the wife of Robert Orren,  who is the Youth and Family Minister and  a deacon for the Hope church of Christ. She has written for many homeschool magazines and online blogs. She currently writes for Queenly Quest, a Christian home magazine. She is a administrator for R16:16, which is a blog and business directory for all members of the churches of Christ. She currently has her own blog, lookatwhatyouareseeing.com in which she writes about homeschooling,natural living,homemaking, and time management.
Note: The author was in no way compensated for this review nor was Come Fill Your Cup, or its Editor or affiliates.
*Affiliate links are used in this post