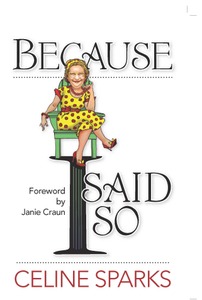 "Because I Said So" by Celine Sparks is one part humor, one part tribute to her mother, two parts Bible study, and at least one part toe-stepping. Sparks takes Momma's old sayings and pulls the Biblical truths from them. There are plenty of scripture references (both direct and indirect), and lots of applications given. Well thought-out chapters are witty, steeped in scripture and fun to read. Of course, the sore toes may not be much fun, but, as the saying goes, if your toes are getting stepped on, move them… and this book will help you do just that: get your toes where they ought to be.
I love the serious and silly blend here. The meat of the chapters is serious enough to cause a moment of self-reflection and redirection, but there's enough silly and witty mixed in to help the medicine go down. The questions included at the end of each chapter are excellent for solo study, but would also be appropriate for a group study. The questions hit all the bases, covering scriptures, the reader's personal walk and general considerations. Each chapter also includes a "Spark Plug." These are narrative reflections from Sparks' own life told with a hefty dose of humor. I couldn't help laughing aloud at least once during each one. So much of the book centers on Sparks' mother's common sense sayings, it's only appropriate that pictures of her mother are included. Though they're probably included more for visual interest than learning, I found the pictures caused me to remember the humanness of each of us. There's a picture of Johnnia (Sparks' mom) washing dishes in her first house as a new wife (38). Somehow it helps me to see and understand that most of the moms out there are really just young women doing their best and stumbling along in the hardest job on the planet: motherhood.
Something else I liked about this book is that it doesn't hit just one demographic or group of women in the church. There isn't too much focus on life as a young mother or as an older woman. A single woman would not find herself excluded nor would a widow or someone without children. The topics are broad enough in range that a new Christian would not be out of her depth, but a mature saint will likely not come off without at least a bit of toe soreness. I would definitely recommend the book for personal study or for group study. There's a lot to be gleaned from this book… and plenty of laughs too. At $9.00 for a well-bound paperback book chocked with wisdom, it's a steal of a deal.
Note: The author was in no way compensated for this review nor was Come Fill Your Cup, or its Editor or affiliates.
*Affiliate links are used in this post
Latest posts by Erynn Sprouse
(see all)