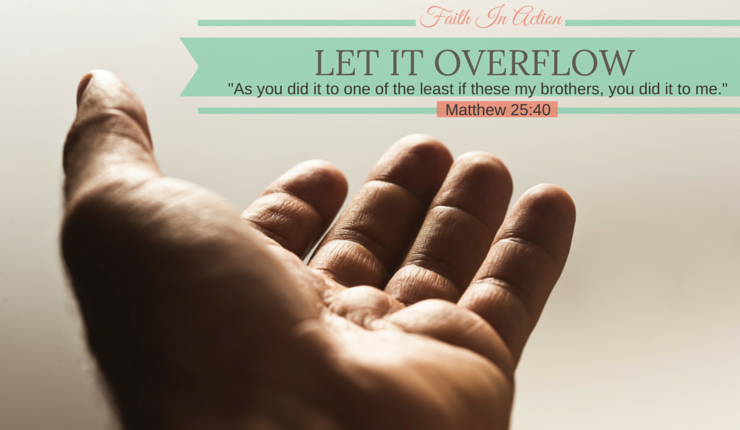 I completely understand what Scripture teaches about envy and jealousy, but truth be told sometimes I really struggle with it. For example: when you walk into my mother's sewing room you will immediately see colorful, beautiful bits of quits lying about ready to be turned into a gorgeous quilt. I, on the other hand, cannot even manage to sew my own curtains (although I have tried repeatedly!) My sister is another fantastic example of the green-eyed monster rearing it's ugly head in my life. A dear sister taught me how to make my own jewelry, and I was so excited! I thought "Finally! Something crafty I can do to relax!"
My rejoicing was a little pre-emptive as once again, my efforts did not go well. However my sister was able to immediately take over the tools I had purchased and create beautiful jewelry as gifts for her wedding party at the time of her marriage. Any time I meet my sisters in Christ who do their own sewing, create beautiful visual aids for Bible class, or who can turn any old yard-sale purchase into a beautiful accent in their home I get bit by the jealousy bug. This is because, for whatever reason, that wonderful, feminine crafty gene chose to skip right over me. While God has blessed me with my own talents and abilities, all things crafty simply do not qualify for me.
However, several years ago my husband and I hit a bit of a rough patch. We were having a hard time with many issues that had a drastic impact on our family's life. Although we knew that we needed to depend on God, at that point in time it was very difficult. We were struggling with fear and uncertainty concerning our family's future.
At that point in time in addition to being a minister, my sweet hubby-man was also serving as a volunteer fireman and first responder. After having one of these serious conversations, he was called out on an emergency. Our precious kiddos were in bed, and as he ran out the door I began to pray that God would strengthen us individually, and as a couple through our struggles, that he would guide and direct our steps, and that he would help us put aside our fears and concerns and fully trust in him.
From there I began to study God's word, and I immediately flipped to Deuteronomy 6:4-9, "Hear, O Israel: The Lord our God, the Lord is one. You shall love the Lord your God with all your heart and with all your soul and with all your might. And these words I command you today shall be on your heart. You shall teach them diligently to your children, and shall talk of them when you sit in your house, and when you walk by the way, and when you lie down, and when you rise. You shall bind them as a sign on your hand, and they shall be as frontlets between your eyes. You shall write them on the doorposts of your house and on your gates."
I had read these passages what felt like a million times, and heard what felt like a million lessons from the pulpit on them, yet they had never impacted me the way they did at that moment. I realized that I had not been putting God's word on the hearts of my husband and children as much as I could and should. I also realized that while we did have various Scriptures on purchased wall-hangings throughout our house, I had not physically written them anywhere, and I wanted that to change.
From there, this craft-deficient Mama began to study the idea of "fear" in God's word, and I came across I John 4:8, "There is no fear in love." This verse went straight to my heart. There is no fear in love? My family loves me, my children love me, my husband loves me, and certainly my God loves me, so why am I afraid? I decided that I needed to "write" this passage on mine and my husband's hearts.
The very next day I went to our local Wal-Mart and found the remnants section of fabric. I knew what this was thanks to my Mama, but for any who don't know remnants are small pieces of pre-cut fabric that sell for about $1.00 a piece. I found a color I liked, and then picked out a $.15 roll of embroidery thread, a package of needles, and a $5.00 frame. From there all I had to do was actually stitch the verse, I even got adventurous and attempted a few hearts. One of the beautiful things about this wall-hanging is how not-beautiful it is. My stitches are uneven, my words are uneven, my letters are different sizes, and not one single person in my family cares.
Since this was specifically to encourage my husband and I, once I framed the verse I hung it in our bedroom where it hangs to this day. Every time I look at it, it's a reminder of God's love for us, and our love for each other. It's also a reminder of Deuteronomy 6 and God's desire for us to "write" his word on our hearts. If you have never done this before, let me encourage you to find a verse that is meaningful and impactful for your family, hand-stitch it, and hang it somewhere that it will be a constant reminder for your family.
This project is not about being crafty (obviously), but rather a desire to create something with our own hands that will help your family focus on God's word each and every day. What verse do you want your family to reflect on each and every day? What verse do you personally need to be reminded of each and every day? What verse would it benefit you to write on your heart as you stitch it into fabric bit by bit? Let me challenge you, crafty or not, to begin intentionally writing God's word on your heart, and the hearts of your family, today.

Latest posts by Lacy Crowell
(see all)