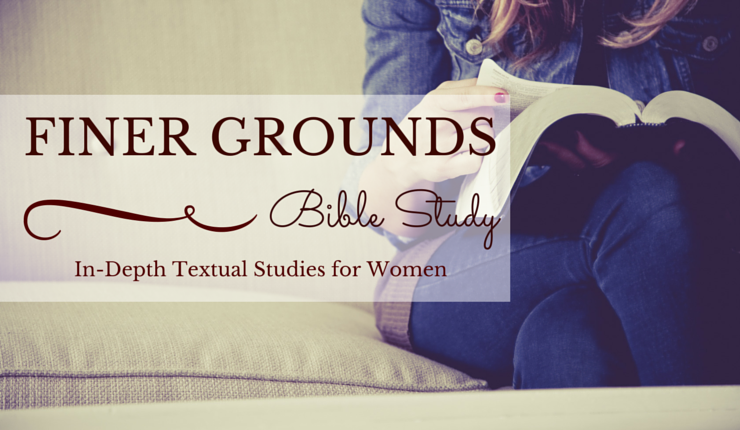 Did you miss a week? CLICK HERE for a complete list of the printable lessons.
1, 2, & 3 John
Lesson 14: 2 John

Read 3 John 1-4
John here, again, starts off his letter by calling himself "the elder"—but this time his intended recipient is a man named Gaius (v.1). This man Gaius must have been a very faithful man, enjoying a close relationship with John, as John calls him "beloved" (AGAPETOS) four times in this short epistle. What should impact us in this letter and in John's previous letters is his strong love for his brethren—and how often he lets them know that they are loved by him. Faithful Christians are a blessing and we need to let them know how much of a blessing they are to us. Appreciation and love make the narrow path easier to follow.
Not only do we need to tell them how much we love them and appreciate them, but we also need to wish them health and success (v.2). John expresses his desire that they succeed and be healthy just as they are successful in their spiritual walk. This may seem like an obvious thing, but 1) we don't always express what we feel, 2) sometimes we don't actively consider that we want others to do well, and 3) we live in a very competitive society that often doesn't really want others to do well—an attitude which filters its way down into the Lord's body at times. We need to take the time to work on being happy for the successes of others. It's not something that always comes naturally. While success isn't a guarantee, when someone is blessed with good things we know they are blessed by God (James 1:17) and Christians must learn to rejoice that the Lord has chosen to bless them (Romans 12:15).
A greater reason to rejoice, however, is when we hear that brethren are following God's pattern (v.3-4). John rejoiced greatly when he heard from others that Gaius was walking faithfully and adhering to the truth (aletheia—found 6 times in this epistle). We need to be willing to tell others how much we appreciate them, and also pass on stories of faithfulness, perseverance, and good news. We hear enough about everything that is wrong, broken, and sick about this world—we need to encourage each other with the news of others walking faithfully, so that there can be rejoicing (cf. Romans 1:8-9; 2 Corinthians 7:6-7; Ephesians 1:15-16; Colossians 1:7-8; 1 Thessalonians 3:6-9).
What are some ways that we can let our brethren know that they are "beloved"?
How can we cultivate a heart that wants to see others flourish and succeed?
Read 3 John 5-8
The next thing that John addresses is how they were right to hospitality to visiting missionaries—even though they were strangers to them personally (v.5-8). We know they must be missionaries because 1) they are strangers (v.5; The ESV correctly reads, "brothers, strangers that they are"); 2) they were on a journey (v.6); 3) they were on a journey "for his name's sake" that required finances (v.7); 4) by giving them financial aid, the brethren were "fellow workers for the truth" (v.8). These missionaries were helped on their way by the church and brought back word to John and his companions about how much love they were shown (v.6).
Being a former missionary, this topic is one I am passionate about: the financial support of missionaries. Too many missionaries have to beg and plead for money everywhere they go and too many end up trying to scrape by with less support than they need—and as a result too few missionaries are willing to be sent out and too many are forced to give up. The life and writings of Paul give us insight into what it means to be supportive to missionaries. Paul sees no shame in expecting that he is brought on his way or in asking the brethren to help others—and he had firsthand experience of what it was like to live on support and the struggles that came with missionary life:
Paul instructs that the Corinthians help Timothy on his journey (1 Corinthians 16:10-11)
Paul asks that the church in Corinth help him on his way (1 Corinthians 16:6; 2 Corinthians 1:16)
Paul and Barnabas were sent on their way by the church (Acts 15:3)
Paul urges Titus to see that Zenas and Apollos "lack nothing (Titus 3:13)
Paul expresses his hope that the church at Rome will help him on his journey to Spain (Romans 15:24)
John says that they should "send them on their journey in a manner worthy of God", or in other words, that they are to give so much and in such a way as is properly fitting for a Christian who has a strong relationship with God, realizes the duty to see missionaries on their way, and is giving financial aid to a faithful brother. This means that it is done cheerfully (2 Corinthians 9:7), with the attitude that we are helping in their work and therefore the spread of the gospel (v.8), and with the knowledge that it is our duty to do so (we "ought to support/receive" them; v.8; Matthew 10:40). There is truly nothing more important than the spread of the gospel—and we should support strong, faithful brethren who choose to sacrifice their lives in their home countries to serve abroad.
What are some ways that we can we show better support to missionaries?
How do you think churches could develop a better attitude about giving to those that come their way?
How should this filter down to how we treat every faithful brother who comes our way? What kind of practices would a person have in place who is in the habit of helping Christians on their journeys and seeing that they lack nothing?
How can we use modern technological advances to see that missionaries are cared for and feel loved (emotionally and financially looked after)?
Take the time to write to a missionary this week—and, if so inclined, "help them on their way" in some way.
Read 3 John 9-12
After talking about how we should treat faithful brethren, John talks about those who stir up trouble (v.9-10). While in 2 John he spoke generally of false teachers, in this epistle he addresses one particular individual: Diotrephes. The problems that John has with Diotrephes are that he loves to be first, he doesn't respect or submit to the authority of the apostles (v.9), he spoke against the apostles, he did not support the missionaries, and—not only that—he threw those out of the church who wanted to take care of the missionaries (v.10). John has nothing to say about this, except that they shouldn't follow Diotrephes' example, because it is evil and does not come from God (v.11).
Demetrius, on the other hand, is someone who they should listen to (v.11-12). He has been a faithful witness of the apostles and the truth—and John says that he adds his testimony to the testimony of Demetrius, a sign that he is indeed a trustworthy source.
What will be the telling actions of a "Diotrephes" (consider v.9-10)?
How can we keep from being caught up in the kinds of "evil" that a Diotrephes-type person will try to spread (consider v.11) and make sure that we are instead listening to the right sources (v.12)?
Read 3 John 13-15
John closes out with an expressed desire to talk to Gaius face-to-face. He has much he wishes he could write but has decided to wait for a later opportunity when what he has to say can be expressed in person (v.13-14). We don't know why John has decided to wait, but there is no doubting that there is great wisdom in waiting, at times, to say certain things. While we can be tempted, especially in this day and age, to hurriedly write everything we are feeling down in a message or text—some things are best left for a face-to-face discussion, where the recipient can observe facial expressions, body language, and your tone of voice. Writing can easily be misconstrued—and so while there are some things we must write, let's be careful to take a moment to word what we say carefully and also consider whether it would be best left for an opportunity to see this person face to face.
The letter ends with a wish of peace and a greeting to the "friends" who are with Gaius by name (v.14/15). John again shows how much he truly loves the church there by calling them his friends—and wishing that they be called by name. He knows them and cares about them, both as the collective body of Christ and as individual members.
Some circumstances require face-to-face communication while others can and should be written. How can we determine what would be best in a given situation?
John calls the church his friends and wants them remembered by name.
What are some Bible verses that talk about what friendship should look like?
How should this translate into our relationships in the church?
How can we better now our brethren "by name"?
by Chantelle Swayne
Would you like to join the discussion? CLICK HERE to access our Facebook group and study through 1, 2, and 3 John with women all around the globe!