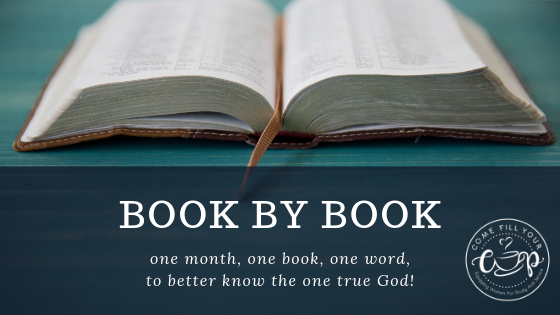 Much like a good chocolate cake, the book of Ruth can be finished quickly, but it's better if you savor it. Throughout the four chapters are layers of richness that reach far beyond what a cursory reading provides. Here are three layers that I hope you'll take the time to relish:
The Backstory
The family of Elimelech lived during a time when there was no king and everyone was doing what was right in their own eyes (Jdg. 17:6). The period of the Judges was an exceedingly rebellious and dark time in Israel's history, but God's light was still shining. Though we don't know under which judge(s) Elimelech and Naomi lived, it was during a period of oppression when God allowed famine throughout the land as a consequence of ungodliness. Despite the trials of this family away from blessed Israel to idolatrous Moab (and back), God was still working His plan to bless us all through this family despite sickness, death, loneliness, and bitterness.
Familiarize yourself with the God of Heaven as seen in the book of Judges. Which of His characteristics are on display? Look into the Hebrew meaning of each of the names in Elimelech's family, and who the ancestors of Boaz were. How might that have impacted them? There are great treasures to find, even in the backstory!
The Love Story
The account of Ruth marrying Boaz is naturally endearing. Who doesn't love a good story when a damsel in distress is rescued by her knight in shining armor? Rather than a fairytale, this real-life love story is evidence of a God who providentially works in the lives of His people. While it is absolutely true that God can accomplish His purpose through anyone – no matter the shortcomings, how much more useful can we be when our aim is to mold our will into His?
Compare and contrast the qualities of Naomi, Ruth, and Boaz vs their Israelite contemporaries. The general population seemed to be cavalier with some of God's biggest commands, yet this family was careful to keep even some of the lesser known. Count the number of times you find the name of God on their lips. In what ways were they careful to preserve their reputation? Through the sorrow and hardship there are many great characteristics of Ruth and Boaz that we should seek to emulate. Like them, we can shine as bright lights in the dark world around us.
The Main Story
Though Ruth may bear the title of the book, she along with the love story, have a secondary role when it comes to the main theme of the book of Ruth. The main character is Naomi and the main theme is redemption – primarily her redemption by Boaz. The challenge word for this month and key word in Ruth is the Hebrew word go'el translated redeem/redeemer/close relative/redemption. The Jewish practice of redemption by a near kinsman is a bit of a foreign concept for us today. However, we would do well to more fully understand it because it directly foreshadows what Christ has done for us! The role of a go'el was much more than a participant in a real estate transaction. It was the buying back of an inheritance (Lev. 25:25ff; Lev. 27:14ff), it was an avenger of death (Num. 35:19), and a rescuer from a life of slavery and oppression just as our Lord has done for us! (Ps. 19:14; 72:14).
In the book of Ruth we see an emotional transformation of Naomi going from bitter to blessed and a physical transformation going from barren to fruitful as the future king and seed-line of our Savior is born. As you make your way through the rich layers of this book, be sure to let it transform you!
by Kathryn Baker