Matthew 7:12 
"In everything, therefore, treat people the same way you want them to treat you, for this is the Law and the Prophets.        
The lunch bell rang. "Diiiinnnnggggg!!!" Those students who were going to be eating the schools hot lunch began forming a line. Those who had brought their lunch formed a different line and would get to the lunch tables first. Mary Rose liked that. Since she was allergic to wheat her mother always made special, yummy bread to make her sandwich with each day. Making her way to a table to wait for her friends, she noticed one girl who was just sitting there; all by h
erself. She was new to this school and to Mary Rose. Being the friendly sort of person Mary Rose was, she walked up and said, "My name is Mary Rose, what's your name?" The girl said, "My name is Ruthie." Mary Rose asked the girl if she was saving any of the seats around her. She looked up shyly and said, "No, but you can sit here if you would like." So Mary Rose sat down across from her and let her know she was expecting a few other girls to come and sit with them. As her and Ruthie began to visit Mary Rose reached in the cloth lunch bag her Mama made and pulled out some of her food. Strawberries, cheese, carrots, 2 cookies and a peanut butter and jam sandwich.Suddenly she noticed, Ruthie had brought nothing to eat! Her mind flashed back to her Sunday morning Bible lesson. The miracle with the 5 loaves and 2 fishes.
"Ruthie", said Mary Rose, "are you going to eat lunch?" Ruthie, feeling a bit embarrassed, said she would eat later when she got home. Ruthie explained that her Mother was sick in bed and her Dad had left for work very early and Ruthie wasn't up to tell him she needed money for hot lunch. They didn't have food to make a lunch so she would just wait. Her Dad would stop at the store on his way home. Mary Rose knew it was a long time until supper. So she insisted upon sharing her lunch with Ruthie. She gave her half of everything that was in her lunch bag. Ruthie thanked her and was glad Mary Rose was so kind. Mary Rose could not stand the thought of eating in front of Ruthie and if she had been the one who was hungry without lunch she would hope someone would share with her as well. Mary Rose had thought of other things from her Bible class as well. About how Jesus had taught many things and done lots miracles that had drawn others to Him. Then she thought of the activity about things they could do to draw others nearer to Jesus. By time the other girls arrived with their hot lunch, Ruthie and Mary Rose had been talking about many different things. They even discovered Ruthie just lived down the road from Mary Rose. She told Ruthie about Bible class and had even invited her to come the next week. They ended up trading phone numbers and Mary Rose said she would ask her mother if they could come by and pick her up for Bible class the next Sunday. She would call her to let her know. Ruthie was very hopeful of going to Bible class with Mary Rose. Some of the other girls would be there as well.  Mary Rose and Ruthie knew they had found a new friend in each other. As they talked and laughed enjoying each other's company they truly hoped they would be able to spend more time together.
Matthew 14:13-21; Mark 6:41; Luke 9:13; John 6:1-15
Greetings!
To my Sister Bible class teachers,
I pray "Mary Rose and Me" finds you well, staying warm, and fed; physically and even more so spiritually. Again it has been a real joy to think of you across the miles having a common bond and goal between us, being the Lord and our continued work in helping to mold young hearts for Him. This month Mary Rose recalled her Bible lesson and actually learned a great deal from it! She not only recalled what the Bible text was about and shared her own lunch, but recalled the lesson as well and actually invited her friend to come to Bible class in hopes of drawing her nearer to Jesus. Mary Rose does and learns some amazing things in these articles. I do believe the thoughts and intentions of children are sometimes deeper and better than adults sometimes think and I like to bring that goodness across in the character of Mary Rose. What was it that Jesus said?
Mark 10:14-16 "Permit the children to come to Me; do not hinder them; for the kingdom of God belongs to such as these. "Truly I say to you, whoever does not receive the kingdom of God like a child will not enter it at all." And He took them in His arms and began blessing them, laying His hands on them.
I love these verses. It is my great hope that not only you are encouraged by these articles but that young ones may also be encouraged as you share the stories of Mary Rose with your class or children at home. I have been printing them off to have on hand to share with little visitors that come into my home. I love to imagine young ones being encouraged by Mary Rose. Even excited to hear what her next adventure holds. The Bible lesson Mary Rose had learned about was The Miracle of Feeding 5000. At the link below you will find visual aids and activity pages for this Bible lesson to print off for your own use!
Link for the printable pages – The Miracle of Feeding the 5000!
https://drive.google.com/folderview?id=0B0JVwiZJ0ZA9N0ROTVdSVmxMTG8&usp=sharing
My prayers and encouragement go with you.
Serving in Christ,
Gwendolyn Schnell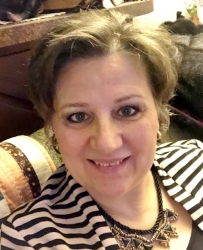 Latest posts by Gwen Schnell
(see all)