Luke 10:38-39
Now as they were traveling along, He entered a village; and a woman named Martha welcomed Him into her home.
The Home
plays a prominate roll in several events of the Bible. But what did the bible time home look like?
• Mark 14:15 describes a guest room that was an upper room (which makes me think of stairs), furnished, and specifically with a table where Jesus and his disciples could eat the passover meal.
• Mark 10:38-40 tells of a home that was large enough to have guests and a "kitchen" of sorts where preparations were being made for a meal to serve the guests.
• 2 Kings 4:8-37 describes a private place to rest with a door. It was a walled upper chamber or second story room and was large enough to have a bed, table, chair, and lampstand.
• Acts 20:1-12 tells of Paul coming to preach and break bread with the christians in Troas. They met in a 3rd floor room with many lamps, large enough for many people and had an open window large enough for a young man to sit on the window sill.
• Joshua 2:1-21 describes this house being on the wall of the city. had a ladder or stairs that led to the roof where stalks of flax were laid, and it had at least one window.
Reading through these passages they paint somewhat of a dim picture in my mind of what a Bible time home must have looked like. Before the internet we depended on magizines, movies and such to help us with these images.
I recall a New Testament soft cover Bible that my Daddy gave me as a child, it was a bit of a magizine style and about 1/2 inch thick filled with black and white pictures of Jerusalem and surrounding areas. I loved looking at all the pictures that allowed me to see a Bible time village.
Some of you may remember this little Bible time house published several years back. It's seen better days but could still be used if the trees and people were spruced up a bit. I love the man plowing in the field with the ox, the well, and I think there is even an oven in the yard on the corner! No telling just how many children have had a picture planted in their minds of what it would have been like to live as those in the Bible.
I was looking on Pinterest for the Apologetics Press Pinterest boards and came across some darling little printable Bible time houses that I just love! Such a great find! Some of them are free and some are for purchase. I downloaded the free ones (there are 5) and here is how house #1 turned out. I cannot wait to put the people and animals together!
I cannot wait to use my Bible Town! Please let me know how you like this little town!
Keeping you in my heart and prayers!
Gwendolyn Schnell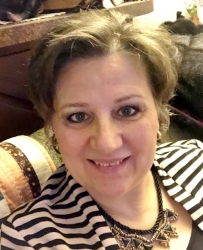 Latest posts by Gwen Schnell
(see all)