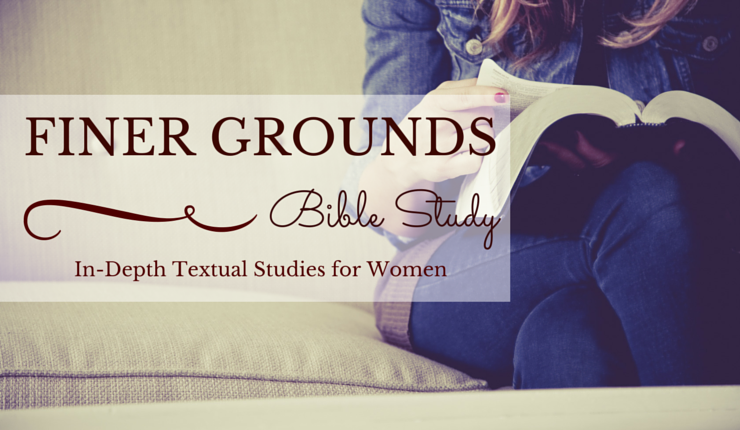 1, 2, & 3 John
Lesson 9: 1 John 4:1-6

Did you miss a week? CLICK HERE for a complete list of the printable lessons.
Read 1 John 4:1-6
This section of scripture is a continuation from the discussion started in 1 John 2:18-27 about those against Christ (antichrists). Here John again instills confidence in his readers that they can "know the Spirit of truth and the spirit of error" (v.6).
Notice in this reading all the identifying characteristics of a false teacher:
Say that Jesus did not come in the flesh (v.2)
Speak of the world (v.5)
Be heard by the world (v.5)
Not hear sound teaching (v.6)
John cautions his audience that they are not to believe everything they hear (vv.1-3) and calls them to test whether men and their messages are truly from God or not (v.1). To "test" means to try, prove, or examine something. We are given authority hear to be judges of men's teaching, testing everything we hear against the word of God (Mark 4:24; 1 Thessalonians 5:21; Revelation 22:18-19). We cannot simply be bounced around by everything we hear—we need to learn to discern the truth from the error (Ephesians 4:14).
John gives them a specific test in light of the error they are facing in their day—if a man says that Jesus did not come in the flesh, he is definitely against Christ (vv.2-3). While this is not the entirety of what could be labelled as false teaching, this is an example specific to this audience and what they were facing.
They already know that the antichrist was to come (v.3; 1 John 2:18-27), now John tells them they are not only already here—but that they also have to be ready to identify them and mark them out.
How can we balance being wary and wise with being one who is accepting and trusting?
While we may not deal with their specific issues, there are certainly those around today who say Jesus is not God. Put together some verses in defense of the fact that Jesus is God and from God.
Often people will say that you "can't judge"—what does this particular passage say about how we are to make judgement upon those who teach us and their message?
What is our responsibility when there are those amongst us teaching falsely?
How should this make us more careful about what kind of material we are reading and studying? How can we engage the material we read so that we are not unwittingly taking in error?
John then gives his readership confidence in the One Who fights with them: "Greater is He that is in you than he that is in the world". When we stand with God and stay in His Word, we can overcome any attack against Christ and His followers. This one "who is in the world" is probably referring to Satan, and by extension his followers. Satan is called "the prince of this world" (John 12:31; 14:30).
Notice he says that you "have overcome them", past tense (v.4). When we stand with God, our victory is realized. When we stand with the One Who overcame death, we have also overcome death and every evil force in this world. We do not need to worry about evil ultimately winning, we need only to fight the small battles on our home front where evil is beginning to creep in, advance, and steal souls from the Lord. This is where derive our strength from—He has already overcome. Victory is assured, we need only to fight.
We need to always remember that the reason for our victory is God, who lives in us, not our own strength (1 John 3:24). His power is always made perfect in weakness (2 Corinthians 12:9). Jesus has already overcome the world (John 16:33). It is in Him we have confidence—not our ourselves. As long as we try and rely on ourselves for strength and victory, we will find ourselves disappointed and discouraged. Remembering that this victory lives within us through the One Who has already overcome is vital to moving forward and overcoming those who threaten our faith.
Regardless of popularity or numbers, the faithful will overcome because of their relationship with God. Those who speak lies will always have more favour with the world—we need to remember this as we fight, or we will get discouraged. Often people will make you feel like your position must be wrong if you aren't surrounded by people who agree with you—but it is often the exact opposite (cf. Exodus 23:2).
We should, in fact, be worried if the world is happy with everything we are saying (1 John 3:13; John 15:19). Jesus said that there is a definite problem when all men speak well of us (Luke 6:26). We need to remember that we cannot be alright with everyone in the world and still be friends with God—to be a friend with the world is to be the enemy of God (James 4:4).
In contrast to the faithful, those who are speaking falsely will not have victory, because they are of the world and speak what the world wants to hear (v.5). The world may at times seem to be winning, but in the end the faithful will overcome, and the faithful will be heard by those who really matter (v.6).
My mother and father—as they worked through many church problems, fought against the attacks of false teachers, and faced much criticism—would always say that you had to look closely at the people who were supporting you. Who around you was a strong, outstanding Christian? Did they support what you were doing? Then you were, most probably, standing in the right place.
The same charge given to these brethren needs to be taken to heart by us today. The spirit of error will be alive among us, as long as this world endures (1 Timothy 4:1). With this in mind, we need to:
Not believe everything we hear (v.1)
Test every soul (v.1)
Rely on God's strength for the battle (v.4)
Remember our victory (v.4)
Speak the things of God, not the world (v.5)
Abide in God (v.6)
Listen to God (v.6)
Stand with the people of God (v.6)
We are supposed to be at peace with all men as much as possible (Romans 12:18)—how can we reconcile this idea with the fact that we cannot always say what people want to hear? Consider James 3:17 Sometimes the faithful might seem to be losing the battle during our lifetime. How can we keep from being discouraged? 
What confidence should it give us, knowing that the one who has overcome the world is on our side?
How can we use v.6 when we are working through an issue to make the right decision or believe the right truth?
What will be the character traits of one who is deep in God's word and speaking the things of God? Besides their doctrine, what will they exhibit in their lives?
What kind of people should we be looking to approve of our thoughts and decisions? How can we better surround ourselves with such people? How should we react if the only people that agree with us are those we observe to be immature or lacking in knowledge?
by Chantelle Swayne
Would you like to join the discussion? CLICK HERE to access our Facebook group and study through 1, 2, and 3 John with women all around the globe!