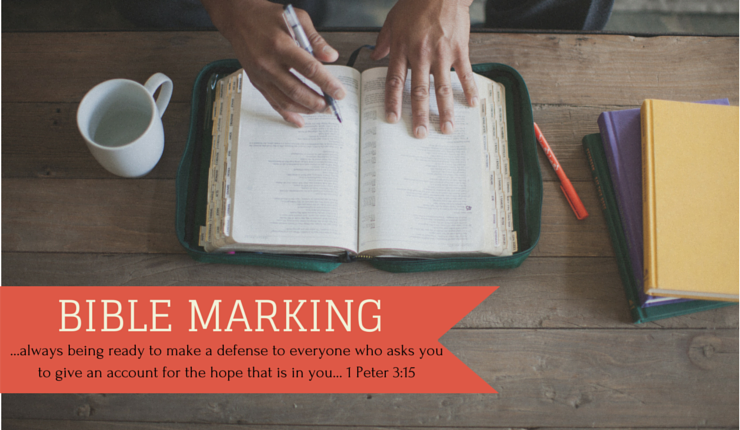 New To Bible Marking? CLICK HERE
Do you remember the old illustration about Limburger cheese? Limburger cheese is a stinky cheese. The smell comes from the same bacteria that's responsible for body odor and smelly feet. One day a man was taking a nap. His mischievous young grandson decided to smear some Limburger cheese on his mustache while he was sleeping. When the man woke up, he yelled, "Ma! It smells in here!" He moved to the kitchen and said, "It smells bad in here, too." He discovered the same smell in his bedroom and garage. He finally went outside to sniff and declared, "The whole world stinks!" The point of the illustration is that sometimes we find fault with our circumstances or with others when the problem is right under our nose.
There are times when I just have a bad attitude, and I know it. I can be impatient or short-tempered. I can feel overlooked. I can struggle with selfishness or discontentment. I can be unkind in my speech. Instead of blaming others for my foul mood, I need to see if I'm just flat out guilty of stinkin' thinkin.' For those times when you, too, are in need of a "checkup from the neck up," here are a few verses to read and pray over. In the front of your Bible, write:
"Attitude Check"- Psa. 118:24
This is the day the Lord has made; we will rejoice and be glad in it.
Circle "rejoice" and "be glad." And perhaps sing the song, too! At the end of the verse, write 119:59,60.
I thought about my ways, and turned my feet to your testimonies. I made haste, and did not delay to keep your commandments.
Underline "I thought about my ways." A bad mood requires some introspection. Make haste, and check your spirit in the mirror of God's Word. At the end of the verse, write 123:3,4.
Have mercy on us, O Lord, have mercy on us! For we are exceedingly filled with contempt. Our soul is exceedingly filled with the scorn of those who are at ease, with the contempt of the proud.
Underline "exceedingly" (found twice) and circle "contempt" (twice) and "scorn." When your heart is filled with scorn and contempt, look to God. Even though the reason seems justified (the objects of the psalmist's scorn and contempt were the proud
and those at ease), you need God's mercy for those unpleasant feelings. At the end of the verse, write 145:2.
Every day I will bless You, and I will praise Your name forever and ever.
Underline the entire verse. Spend some time thanking God for His greatness. Remember His greatness makes our irritations seem small and insignificant. It's hard to maintain a bad attitude when praising God. At the end of the verse, write Prov. 17:22.
A merry heart does good, like medicine, but a broken spirit dries the bones.
Underline the entire verse. Smile throughout the rest of the day. Smiling instantly makes you feel better (along with everyone else around you). At the end of the verse, write Rom. 12:12.
Rejoicing in hope, patient in tribulation, continuing steadfastly in prayer…
Circle "rejoice" and "patient." This entire chapter is helpful when your attitude has soured with regard to others. What to do when upset? Rejoice, be patient, pray. The right response can be difficult (see verses 14-21), but God commanded it because He knows that we only hurt ourselves when we feed our anger. At the end of verse 12, write 1 Cor. 15:33.
Do not be deceived: 'Evil company corrupts good habits.'
Underline the entire verse. Have you been hanging anyone that has an attitude problem? Do they complain and criticize? Perhaps their irritability has rubbed off on you. Spend more time with people who are sweet spirited and patient. At the end of the verse, write Eph. 4:23.
And be renewed in the spirit of your mind.
Underline the entire verse. Paul is contrasting the old man with the new in the text. The rest of the chapter talks about things to put away (anger, malice, mouthiness) and things to put on (grace, kindness, forgiveness). It all begins in the mind. At the end of the verse, write Phil. 2:14,15.
Do all things without complaining and disputing, that you may become blameless and harmless, children of God without fault in the midst of a crooked and perverse generation, among whom you shine as lights in the world…
Underline "do all things without complaining and disputing." Circle "blameless," "harmless," and "shine as lights." When we murmur and complain, we harm and we don't shine in the world. That's no joking matter. God holds us accountable for our attitude. At the end of the verse, write Col. 3:15.
And let the peace of God rule in your hearts, to which also you were called in one body; and be thankful.
Underline "let the peace of God rule in your hearts" and "be thankful." Circle "rule." Is the peace of God ruling your heart right now? When weak feelings rule, we choose to allow it. We choose whether or not we "let" God's peace rule. Throw away the bad attitude and fill your heart with thanksgiving.
For more Bible Marking topics CLICK HERE
Latest posts by Kathy Pollard
(see all)